S ome 88 km south of Windhoek, amongst a relatively dense acacia woodland of camel-thorn, sweet-thorn and candle-pod acacia, is the historical town of Rehoboth.
It is inhabited by the Baster community, descendants of people of mixed parentage who trekked across the Orange River under their leader Hermanus van Wyk and settled at Rehoboth in 1870.
The history of the Rehoboth Basters is recorded in the Rehoboth Museum, established by Namibian anthropologist and archaeologist, Dr Beatrice Sandelowsky. Displays detail the cultural heritage of the Basters and archaeological finds in the area, such as an open-air burial site. Representing a vital component in the preservation of Rehoboth's past, displays of mineral and volcanic rocks give an insight into the geological formations on the African continent in general and in Namibia in particular, while fossil remains provide a glimpse into the development of man on the continent. Augmented by the many historical items representing the lives and stories of this interesting people, the reference library contains further reading on the national heritage of the Rehoboth Volk. In earlier times a camel-thorn tree referred to as Kaptein's Tree was the venue for the meetings of the Kapteinsraad, an equivalent of Chief's Council.
Just west of Rehoboth is Oanob Dam, which supplies Rehoboth with water. Overlooking the dam are picnic places with barbecue facilities, a restaurant, bungalows and a number of walking trails. Oanob is a favoured venue for day and weekend outings, for locals as well as bird-watchers and water-sports enthusiasts.
An area of some 8 400 ha referred to as the Acacia Forest and well known for its large camel-thorn trees (some estimated to be 2 000 years old) lies within the municipal boundaries of Rehoboth. The possibility of proclaiming the area as a community park is being considered.
Baster women in traditional wear. Photo ©Marita van Rooyen
At the Rehoboth museum. Photo ©Amy Schoeman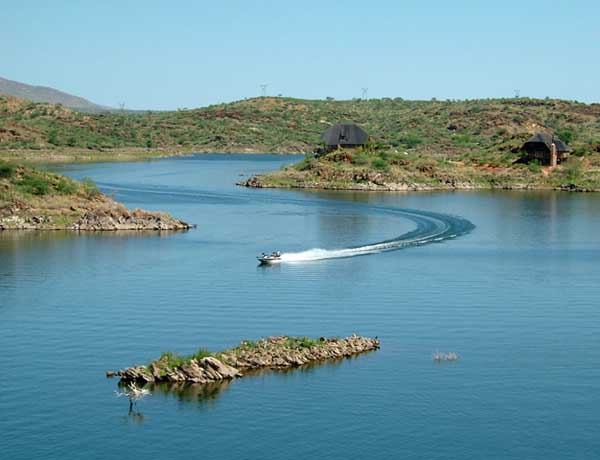 Oanob Dam. Photo ©Marita van Rooyen