Text Nirvani Pillay | Photographs Wilderness Safaris
Southern Africa is host to a collection of magnificent places, awe-inspiring landscapes, majestic animals and breathtaking moments. From north to south, Namibia teems with possibilities for your next safari. But our neighbours are just as gifted and we highly recommend connecting your next trip to Namibia with a hop across a border. Follow Travel News Namibia over the next year as we explore our magnificent neighbouring countries with Wilderness Safaris.
Z imbabwe lies snugly in the heart of southern Africa, with the majestic Zambezi River coursing along the northern border and the languid Limpopo River forming the southern border. Between these two great African rivers lie some of the most unspoiled and pristine wilderness areas on the continent, offering diverse habitats ranging from the granite hills of Matopos to majestic mountains, lush forests, and savannah mosaics. The country arguably has an unmatched abundance of big game and an incredible diversity of bird species.
It is here in Zimbabwe that eco-luxury safari operator Wilderness Safaris has maintained a long presence in private concessions within Hwange and Mana Pools National Parks, where its successful ecotourism model has been recognised as a winning formula for sustainable conservation. Over the years Zimbabwe experienced challenges owing to the sociopolitical climate. However. Wilderness Safaris remained fiercely committed to keeping the lodges active in its concessions despite the financial impact. The company did this to ensure it met its responsibilities to both communities and conservation, supporting game water provision, firebreak maintenance, anti-poaching units and community engagement. Over the past few years, the country's tourism sector has seen a strong comeback and Wilderness Safaris is fully able to showcase its luxury lodges in some of the most spectacular wilderness areas in southern Africa.
Mana Pools National Park is, without doubt, one of the most remote and beautiful areas in Zimbabwe. Mana means 'four' in Shona (the local language of Zimbabwe), and refers to the four main pools – Main, Chine, Long and Chisambuk – which are remnants of channels of the river that stopped flowing years ago. These and other pools dotting the inland areas hold water year round, drawing a large concentration of wildlife and birds during the dry season: April to early November. Wilderness Safaris Ruckomechi and Little Ruckomechi Camps are located on a private concession within Mana Pools National Park, where luxury tents under the shade of broad-canopied ana trees overlook the Zambezi River. The destination is increasingly considered a must-see bucket-list one, as well as one of the last true remaining wilderness areas in southern Africa.
The landscape of Mana Pools is quite simply mesmerising as you enjoy the dramatic scenery of the floodplains, river front and mountain backdrop. There is a high density of elephants, curious creatures which swim across the river from island to island. As rightful owners of Mana Pools, they pass through camp snacking on the ripe ana pods, nicknamed 'choc-chip cookies' by the staff.
In startling landscape and biodiversity contrast, Hwange National Park is home to some of the largest concentrations of large mammals including elephant and buffalo. Big cats are regularly seen, along with a diversity of birdlife. The park is over 70 years old and remains the core habitat in the region for a number of species. Located on the private concessions of Makalolo and Linkwasha, Wilderness Safaris' three camps are uniquely distinct from each other. Linkwasha Camp is the newest and most exclusive of the company's Hwange establishments, and is arguably located on the best location within the park. Little Makalolo Camp is differentiated by its intimate size and action-filled log hide which overlooks a busy waterhole. The comparatively relaxed Davison's Camp is a delight for guests who want laid-back luxury.
Very few activities can match a walking safari on Ngamo Plains, where in the summer months there are so many animals that your eye is unsure of which animal to look at first. The close proximity to nature certainly heightens the experience of the wilderness, and you are always accompanied by a trained guide: Zimbabwe's guides undertake the most rigorous training in all of southern Africa.
WHEN TO GO?
Hwange National Park is an all-year-round destination. Summer game viewing is exceptional in the private concessions owing to the constant supply of game water. Mana Pools is inaccessible during the rainy season.
To book your Zimbabwean adventure with Wilderness Safaris, visit: www.wilderness-safaris.com, or send an email to enquiries@wilderness-safaris.com.
HOW TO GET THERE FROM NAMIBIA?
• Air Namibia has regular flights from Windhoek to Harare
and Victoria Falls.
• A bus service also travels between Windhoek and
Victoria Falls.
• There are various self-drive route options via Botswana's
Chobe National Park or through Livingstone in Zambia.
"Between two great African rivers, lie some of the most unspoiled and pristine wilderness areas on the continent, offering diverse habitats, an unmatched abundance of big game and incredible diversity of bird species."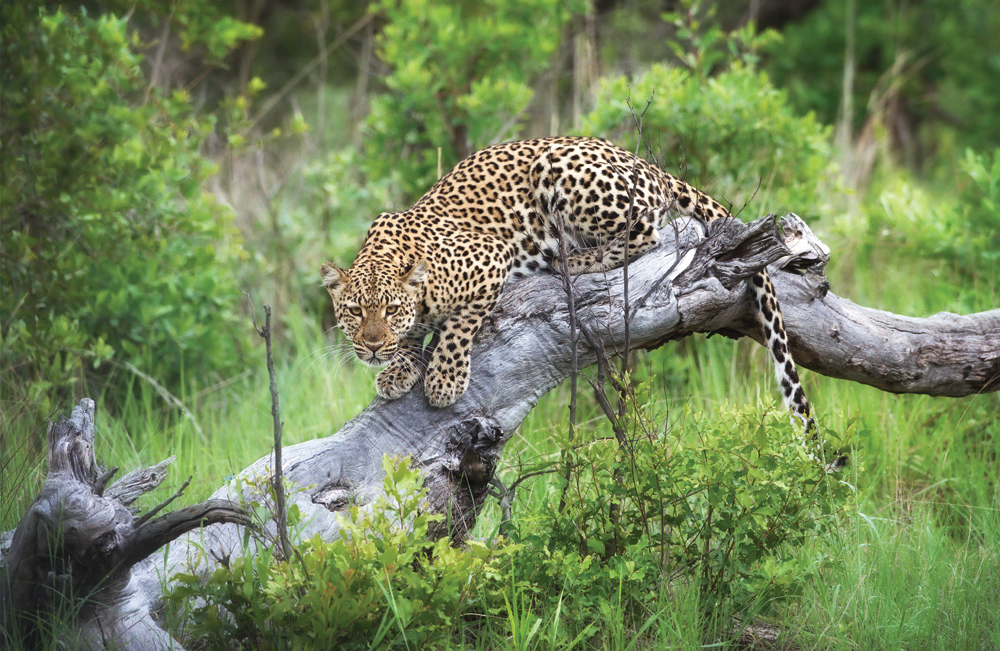 This article was first published in the Travel News Namibia 16/17 issue.