Text and Photographs Elzanne Erasmus
Green. Lush. Wet. Wild. The sun setting beyond tree canopies. Surprise visits from elusive creatures. An adventure awaits here in one of Namibia's most enigmatic locales. Welcome to the Zambezi in all its wonder.
A s the crow flies, or perhaps in this case as the Fish Eagle flies, Kazile Island Lodge is situated about 2 km across green marshlands adjacent to the famous Horseshoe Bend within Bwabwata National Park in Namibia's Zambezi Region. You can't see the beautifully appointed canvas structures from this POI's* white sandy beaches though. They are strategically hidden in the midst of a tall Mangosteen forest on the opposite side of Kazile Island. But delve into the depths of the riverine woodland and you'll find a secret paradise amongst the growth.
Coming down river from an allotted rugged wooden dock, a winding river course takes you from the Mashi Conservancy on the Kwando River's eastern banks into Bwabwata National Park. Rounding a bend, the golden morning light catches the stunning wood and canvas visage of the area's newest establishment. Hugging the canopy of trees in which it was built.
Kazile Island Lodge can boast being one of only two lodges within Bwabwata National Park. Its sister lodge, Nambwa Tented Camp, is also owned and operated by African Monarch Lodges. Owner Dusty Rogers recounts how Kazile Island has long held a special place in his heart. It is here, in the part of the country he loves above all else, that he had a narrow encounter with an angry buffalo. Dusty lived to tell the tale and went on to build a refuge within the natural beauty of this special island in the Kwando River and its floodplains.
From the lodge's main deck the view over the gently meandering Kwando is otherworldly. Dramatic rain clouds and a setting sun combine to create a mosaic backdrop of colour and texture culminating in an awe-inspiring moment. Dusty tells me that he has been witness to a herd of elephant crossing the river right in front of the sunken deck seats we are lounging in. On a scenic boat cruise to the nearby Horseshoe Bend we are privy to amazing bird sightings such as only the Zambezi Region can deliver. Before we reach the main bend in the river we veer off onto a riverbank where a game-viewer vehicle awaits our arrival. A drive through Bwabwata's grasslands and thick bush areas can conjure up sightings of fauna such as buffalo, elephant, kudu, impala, lechwe, innumerable birds and, if you're lucky, even wild dog or the illusive sitatunga. In the evening, now under a canopy of wondrous starry skies and looming Jackalberries, we sit around a fire and watch fireflies intermittently flash about across the water surface.
From the private porch of my tented suite I watch a woodpecker hack away at the trunk of a tree in search of his evening meal. A hippo gives an iconic 'huh huh huh' just downstream. The air is relaxed, the décor simple and oh so stylish, and not a moment passes where I don't feel utterly at peace, calm and comfortable in this new corner of paradise. With the Kwando on your doorstep and the Horseshoe Bend in your backyard, what more can you expect than an unbelievable and cherished experience?
OUR KAZILE BIRDING CHECKLIST:
We spotted these birds on our recent trip:
❏    Bearded Woodpecker
❏    African Green Pigeon
❏    African Paradise Flycatcher
❏    Arrow-marked Babbler
❏    Black-backed Puffback
❏    African Wood Owl
❏    White-browed Robin-chat
❏    Black-collared Barbet
❏    Pearl-spotted Owlet
❏    Woodlands Kingfisher
❏    White-browed Coucal
*POI: POINT OF INTEREST
An interesting feature worth a visit in a certain area, often referred to as such on a map or on GPS geodata.
ACTIVITIES AT KAZILE
Boat cruises on the Kwando River

Game drives in Bwabwata National Park

Guided bush walks

Visits to the Mashi Traditional Village and the craft market at Kongola
DID YOU KNOW IT'S QUITE EASY TO SPOT A HIPPO TRAIL?
Hippos leave a very distinctive trail when exiting the safety of their river home to graze each night. A hippo's path has a "middle-man" or centre parting of grass or mud just like a vehicle track would leave. This is caused by the shuffling motion of a hippo's feet as it heads out on its next adventure.
Visit www.africanmonarchlodges.com for more information on this new gem.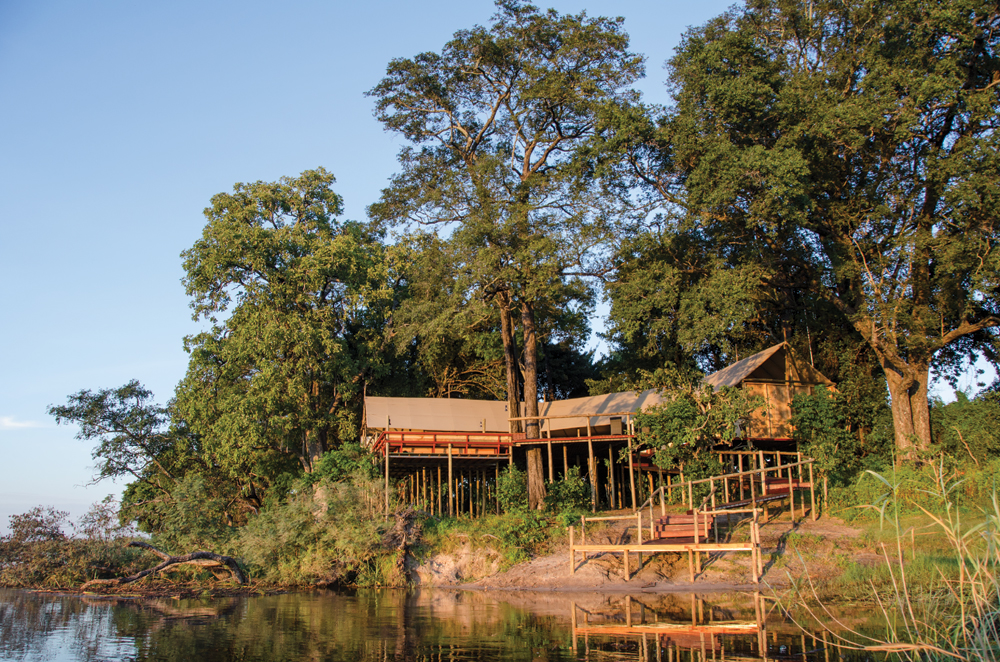 This article was first published in the Travel News Namibia Winter 2017 issue.