PHOTOGRAPHY FEATURE
Xenia Ivanoff-Erb
X enia Ivanoff-Erb is a professional graphic designer, brand consultant and photographer. This year, she proudly acknowledges, she has 25 years of experience in the business of "bringing brands to life".
She graduated from Rhodes University with a BA degree in Fine Arts which she says "provided me with a solid background in the Arts but with a degree that certainly did not open any doors into the world of commercial design. I did, however, have the opportunity to study photography for one semester with the world-renowned South African photographer, Obie Oberholtzer. Not once did I pick up a camera nor did I really take much note about shutter speeds or apertures …  What Obie did teach me was how to see an image and how to evoke emotion through an image". It is interesting that at the time Xenia started her university career, the well-known Namibian photographer, Tony Figuera, had just completed his studies at the same university. "That's not the only thing Tony and I have in common: last year while Tony was helping me prepare for my first photographic exhibition in Swakopmund, we discovered by chance that we share the same birthday," says Xenia.
"I love the sense of unity and the diverse community in Swakop. My husband Georg and I spend many hours exploring nature and the environment in and around Swakopmund. It feeds my soul, it makes me feel alive."
CAPTURING MOTION
The images on this page are simple everyday subjects; there is nothing very remarkable about them except that I have challenged myself to capture the essence of water in motion. The reason I have chosen such simple subjects was because in each subject there was an element which appealed to me: the twilight sky, the aquamarine colour and the dark-red garnet beach sand. To make each subject stand out I applied specific creative skills to capture the viewers' attention. The two beach scenes use a technique called long exposure. I had to have my camera on a tripod to keep it completely still and set the shutter to stay open for longer then 1/15 of a second to capture the movement of the water. I mostly use an ISO 100 setting for best quality and an aperture of F14 for sharpness throughout the image. I also use a black UV (10xND) filter on the front of my lens which acts like a pair of very dark sunglasses so you can keep the lens open long enough without the rest of the photograph being completely overexposed to the light.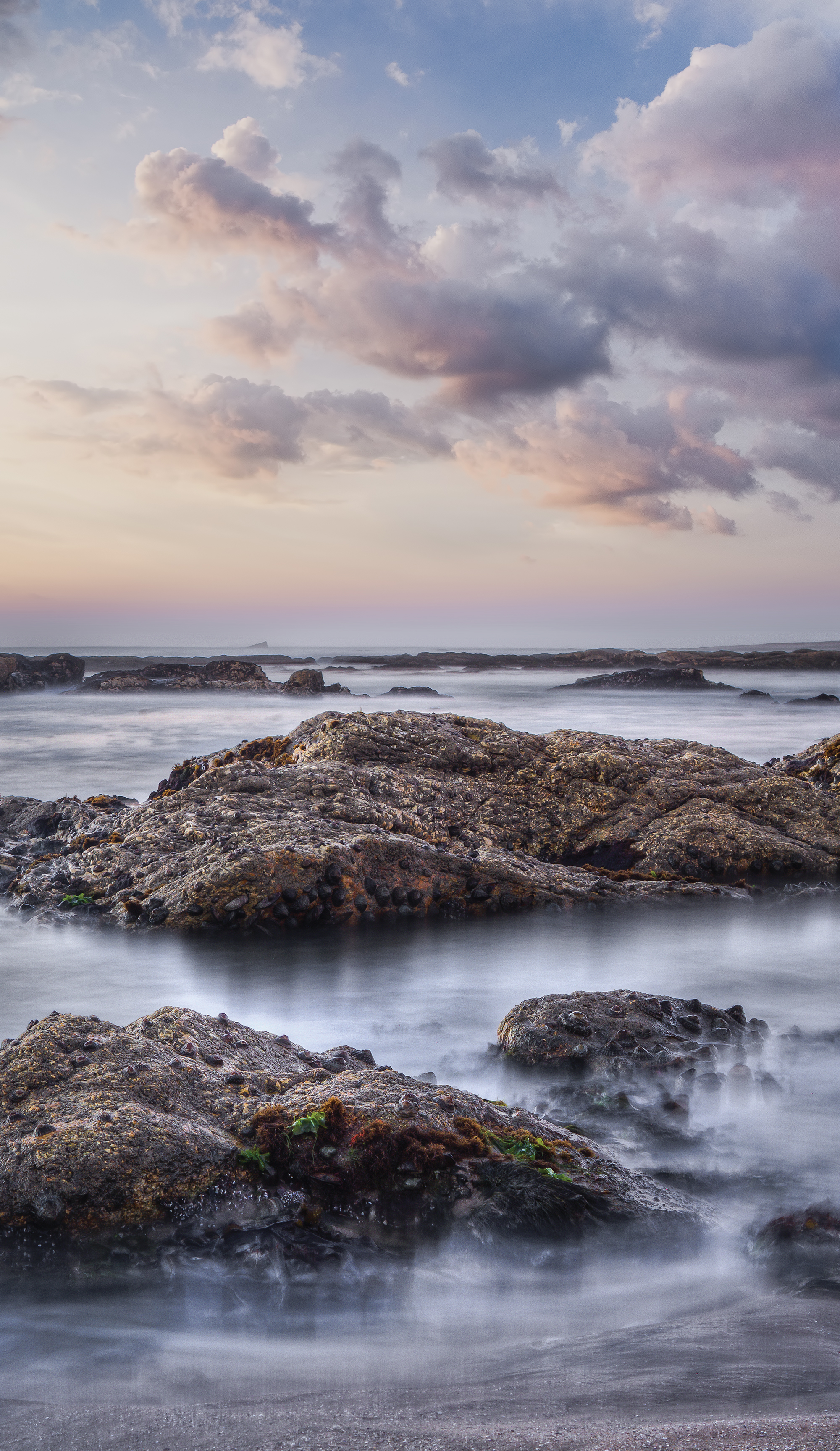 Vierkantklip, Swakopmund
CAPTURING THE DUNES
Photographing the dunes near Swakopmund is my single most favourite subject. They are sensual, they are emotive and to me their colour and texture are far more exquisite than the dunes around Sossusvlei.
When I first planned my trip to Namibia the clever camera people told me that without a doubt you need a wide-angle lens, I was utterly disappointed with the results. The 10-20mm lens did not capture the wide open spaces the way I had imagined. Since then I have photographed the dunes with a 70-300mm or a 100-400mm lens. By using a telephoto lens you are better able to capture abstracts and special shapes which create beautiful graphic-style images. I always set my aperture to F14 and my ISO stays between 100 and 400. In the dunes my camera is mostly handheld. Our dunes have plenty of mica dust so don't be alarmed when you get back and notice what looks like lots of blown-out white pixels in your shot – they are just sparkles. Often these enhance an image but if they do not work for your image it is simple to remove them in Photoshop. Late afternoon is when the magic happens.
"With my photographs, which I share on social media, I want to portray a different view of Swakopmund in the media than the images I found online which depict the town as dated, old and grungy. Almost every article harps on about a history of war and colonial times. Swakop is struggling to establish a new character for itself as an African town. I started to share more up-to-date images of Swakopmund and its environs through my eyes. I use my experience of marketing and travel as a guide to what would appeal and attract attention."
In the past year Xenia exhibited at The Dome in Swakopmund and in Germany at an exhibition presented by the Deutsch-Namibische Gesellschaft as a showcase for Namibia.
Xenia's favourite photographic genre is landscape photography, followed closely by food photography and then people photography.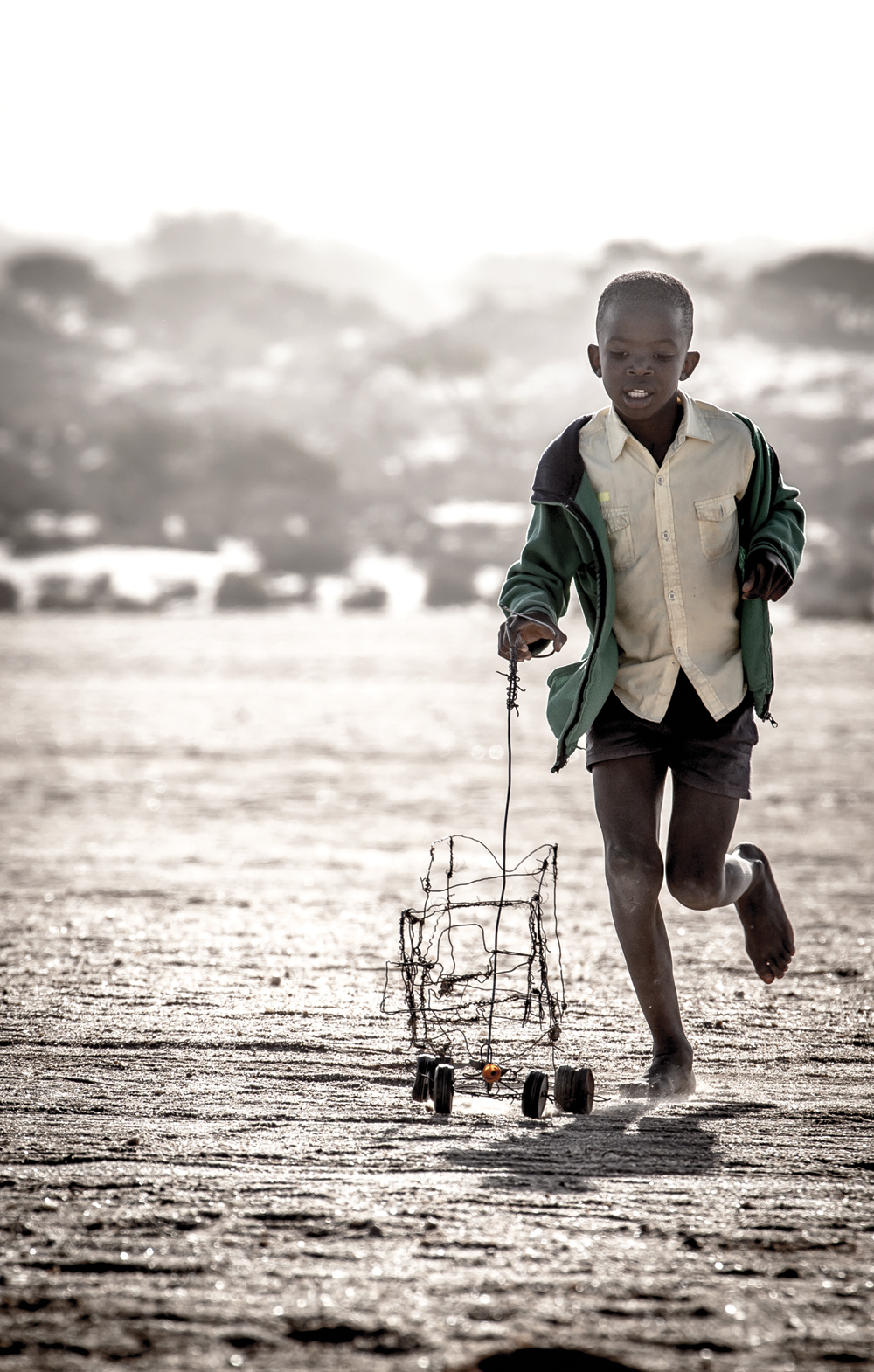 KEEPING IT SIMPLE
The first thing I look for in a composition is the possibility of keeping the layout simple, clean and emotive. In each of these images I have used the key element of simplicity to compose an interesting and evocative image:
The pebbles may not at first glance appear simple, but the fact that the image is made up of pebbles only simplifies the image; the variety of colours and detail captures the imagination.

The soft tones and the layers of Brandberg in the background are simple and draw attention but they are balanced by the small area of detail in the foreground.

The simple sunlit background creates a strong contrast for the shape of the flamingos to create interest.
"I love landscapes because they are challenging: it is not easy to find unique and interesting ways to portray the jetty or Dune 45, for example. I look for the beauty, balance and emotive element in every scene. I step back and savour the moment. If I discover interesting elements or details, and if there is something that stirs emotion, I capture it. The creativity of the shot depends very much on what you are able to achieve by using your camera. I've captured some very beautiful shots on my old Blackberry phone, but generally I use my mid-range full-frame Canon camera, because it gives me the opportunity to be as creative as I want to be. If I just want to travel light and capture memories, my Panasonic Lumix is ideal for almost every situation."
"My best advice to those venturing into the world of photography is to buy the camera body which allows you to achieve the end resolution and the creativity you want. If you buy a DSLR, always buy the best quality lens you can. For me, the quality of the lens is more important than the body. My popular quote is that the best camera is always the one that you have with you."
"Food photography is probably the most challenging work that I do, but it is also the most rewarding. I personally am not a foodie at all, and that's where Georg and I work so well together. He loves food: preparing it, styling it and getting the right light onto it. I love to choose the right lens to get the artistic effect I want to achieve and the best part for me is processing the photograph in Lightroom and then Photoshop to make sure that the end product is perfect, tasteful and leaps off the page begging to be eaten."
"The year ahead is looking really exciting as Georg and I are finally seeing one of our dreams come true. In July 2017 we will be opening our own gallery, right in the heart of Swakopmund. We have been fortunate enough to secure a shop in the Bonus Marktplatz, which is one of the historical gems being renovated by the Lighthouse Group. The Bonus MarktPlatz has a wonderful mix of tenants which will make it a central hub for both locals and tourists and therefore ideal for our gallery. More information will be provided closer to the time."
Langstrand, between Swakopmund and Walvis Bay
This article was first published in the Travel News Namibia Summer 16/17 issue.