C entred on the Mudumu Mulapo fossil river course, this vast 1 010-km2 expanse of dense savannah and mopane woodlands bordered in the west by the Kwando River, was proclaimed a national park in 1990.
Dense mopane woodlands are at the core of Mudumu, the combination of forest and water ensuring a wealth of wildlife. The park is home to small populations of sitatunga and red lechwe, while spotted-necked otter, hippo and crocodile inhabit the waterways. During a game drive, animals likely to be encountered are elephant, buffalo, roan antelope, kudu, impala and Burchell's zebra.
The park is alive with more than 400 species of birds. Of particular interest are slaty egrets, Hartlaub's babblers, greater swamp-warblers (in the papyrus swamps), chirping cisticolas, and swamp boubous. Other noteworthy species include black coucals (an intra-African migrant), coppery-tailed and Senegal coucals, wattled cranes (floodplains) and rosy-throated longclaws. In the backwaters and swamps, African pygmy-geese and comb duck (between September and April), Allen's gallinules (between December and April), and African and lesser jacanas are found. The infrastructure and facilities of the park were upgraded in 2012.
Hippopotamus. Photo ©Paul van Schalkwyk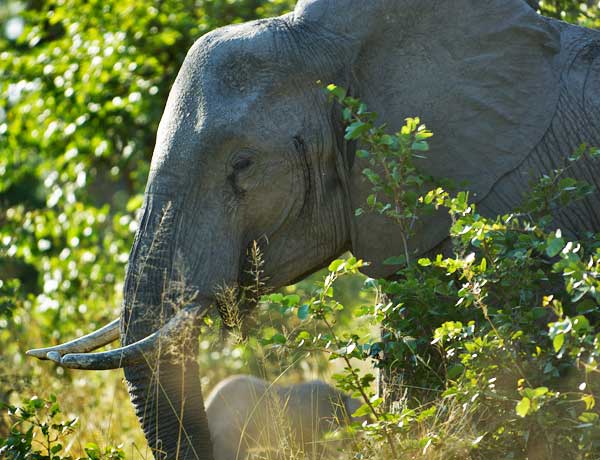 African elephant. Photo ©Paul van Schalkwyk