Swakopmund is much loved by Namibians as a welcome respite from the heat of the interior. It is also popular among visitors because of its old-world charm and relaxed atmosphere. Founded in 1892 during German colonial rule, it served as the territory's main harbour for many years. Today this quaint desert town, hedged between desert and sea, is enhanced by lush green lawns, elegant palm trees and carefully tended public gardens.

Swakop has a wide choice of hotels, pensions and restaurants, and several coffee shops selling traditional German cakes and pastries. The coast with its desert hinterland offers many options, both for adventure and for relaxation.
Just before reaching Swakopmund from the interior, enclosed in a small glass-fronted structure, visitors can view the Martin Luther 'steam-ox' imported from Germany in 1896 to transport goods between the town and other settlements. When the steam tractor became irretrievably bogged down in the sand, it was dubbed Martin Luther, because of Luther's historic statement in 1521, "Here I stand, may God help me, I can go no further." The venue has a museum, toilet facilities and curios for sale.
Quaint architecture from a bygone era adds to the time-out-of-place atmosphere of Swakopmund. When approached from the interior, domes, turrets and towers on the skyline appear as a hazy desert mirage. Much of the distinct German colonial character has been preserved and today many of the town's old buildings house shops, offices and other utility services.
The well-known information service, Namib i, belongs to Almuth Styles, who manages the centre as a general-information outlet and marketing service for the Erongo Region. It also provides a comprehensive reservations facility and is the only Automobile Association (AA) stop in town.
Another booking office is Swakop Info, which also has a craft shop and café on site.
Namib i
Tel/Fax (+264 64) 40 4827/3129
Swakop Info
Tel (+264 64) 40 5488
Photo ©Paul van Schalkwyk
Photo ©Paul van Schalkwyk
What to see and do
Woermann House, built in 1905 to accommodate the Damara and Namaqua Trading Company and sold in 1909 to Woermann Brock, houses the Swakopmund Arts Association and Public Library. The Woermann Tower, which can be accessed at specified times, affords a panoramic view of desert and sea. It has a platform from which, in earlier times, a flag was flown whenever a ship of the Woermann Line was sighted at sea.
The Living Desert Snake Park in Sam Nujoma Drive hosts a variety of interesting creatures for the whole family to enjoy. It is housed in the historical Otavi-Bahn building, which served as the terminal for the mining railway line. The goods shed next to this building, built in 1911 and called OMEG-Haus, is a national monument.
The old barracks, known as Die Alte Kaserne, was built by the German colonial government in 1905 to house the German Engineer Regiment responsible for the construction of the jetty and the railway line to the interior. It is now a youth hostel based on the concept of the International Youth Hostel Federation. The privately-owned Hohenzollern-Haus, embellished by a frieze of angels and lions and originally built in 1905 to accommodate visiting aristocracy from Germany, at one time functioned as a house of ill repute. Today this striking building serves as an apartment house, while the Prinzessin Rupprecht-Heim, built in 1902 to operate as a hospital, is now a pension.
The Kaiserliches Bezirksgericht (magistrate's court) was built in 1901. Since independence the building has been serving as a summer residence for the President of Namibia. Next to it are the gardens of the Marine Memorial, commemorating marines who died in the 1904/5 Herero uprising. In recent years the elaborate Railway Station Building, erected in 1901, was transformed into a luxury 75-room hotel and entertainment centre, complete with casino, cinema, bar and restaurant. Resembling a Bavarian villa with its ornamental exterior, the Swakopmund Jail is often mistaken by visitors for a hotel. One of the town's most prominent landmarks, the Swakopmund Lighthouse, was completed in 1903, as was the harbour breakwater known as The Mole, today the southern boundary of Swakopmund's main tourist beach.
The Evangelical Lutheran Church, consecrated in 1912, is the second-oldest of its kind in the country. Closely associated with the history of the town, is the Kramersdorf building (1912), with its architectural value lying in the wide, flat wooden bow. It traditionally served as a private residence, school hostel, and summer house. Today it is privately owned.
Another historical landmark is the Old Iron Jetty, originally built in 1911 during the German colonial era. The jetty was frequented especially by anglers and tourists, but gradually fell into disrepair. Major reparations were done in 1983 when 17 pairs of the iron pillars were encased in concrete. In 1997 the Save-the-Jetty Fund was established and in 1998 the jetty was closed because it was deemed unsafe. Following a major N$3.7 million refurbishment in 2006, the front section was reopened to the public. In 2010 the back section was reopened and now includes an oyster bar and restaurant, with an observation deck on top.
Laid out in stone in 1915, a selection of the regimental badges from the South West Africa Campaign can be viewed 27 km east of Swakopmund. The campaign was launched by the Union of South Africa troops on the Germans stationed in South West Africa at the outbreak of WWI. More regimental badges can be seen about 46 km east of the town. Similar badges and patterns, also laid out in stone, can be found between Swakopmund and Trekkopje, along the railway line. Other interesting sites in the area are small fortifications, the trenches, and the cemetery at the Trekkopje station.
White pelican. Photo ©Paul van Schalkwyk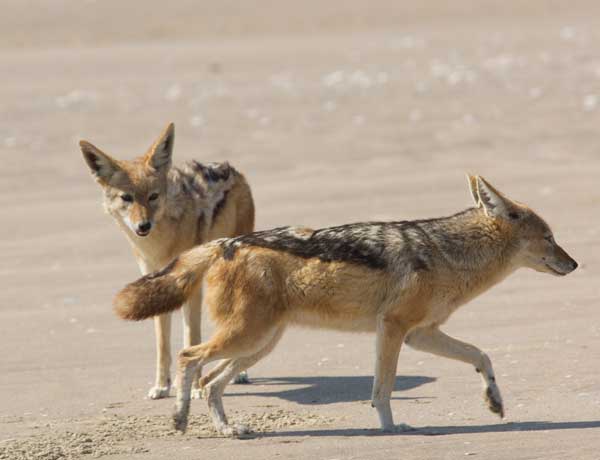 Black-backed jackals. Photo ©Paul van Schalkwyk
Photo ©Paul van Schalkwyk
Stepping into the past
A 27-million-year-old fossil, meteorite chunks, fossilised wood, and jawbones of our human ancestors mingle with Spanish coins, restored ox wagons and turn-of-the-century drawing rooms in the Swakopmund Museum, a small but comprehensive institution with displays ranging from natural history, mineralogy and botany to historical and ethnological dioramas.
A walk through the museum, founded by Dr Alfons Weber in 1951, takes you travelling through time, from ancient earth forming to a more recent colonial past. Situated on the seafront between avenues of palm trees, this treasure house holds a multitude of interesting artefacts. A large airy hall houses a People of Namibia exhibition with information on the diverse and distinct population groups of Namibia. Baskets, headdresses, amulets and ostrich eggs fill the many display shelves. The Emil Jensen Herbarium exhibits Namib flora.
The entrance of the museum faces the Atlantic Ocean and the Mole, a popular swimming beach. The Alte Brauereistube café has been added to one side of the building.
Tours to the open-pit Rössing Uranium Mine are conducted from here on the first and third Friday of the month. The museum is open seven days a week, from 10:00 to 17:00.
Photo ©Paul van Schalkwyk
Libraries and archives
The Public Library has amenities for visitors, while the well-known reference facility known as the Sam Cohen Library comprises some 6,000 volumes and an impressive collection of historic photographs. This includes the renowned 2,000-title Africana collection of the late Ferdinand Stich. The archives, housed in the same building, give visitors access to a unique collection of newspapers dating from 1898 to the present day.
Small but modern aquarium
On the beachfront next to the National Marine Information & Research Centre in Strand Street is the Swakopmund Aquarium, an extensive and popular facility that recently underwent extensive upgrades, additions and renovations, completed at the end of 2012. Its main feature is a large 12×8-metre transparent oval-shaped tank, with a glass walk-through viewing tunnel and a number of additional viewing panels, placed at different angles. The tank contains a variety of fish, including spotted shark, sand shark, kabeljou, steenbras and galjoen, and many other organisms. The theme depicted in the tank is a typical west-coast reef with related flora.
There are also 17 smaller viewing tanks, one of them in the form of a tube. Special features are the so-called touch pools containing typical intertidal flora and fauna. A new touch tank was added during the upgrades, hosting stingrays, and the top floor has been renovated into a welcoming educational environment for children.
The complex also houses an auditorium, with seating for approximately 120 people. It is used for conferences, lectures, slide shows and other presentations and is fully equipped with audio-visual, interpretation and other amenities.
Feeding takes place daily at 3:00. The aquarium is closed on Mondays, Christmas Day and New Year's Day, but is open all other days from 10:00 to 16:00.
The Swakopmund Aquarium. Photo ©Ron Swilling
Photo ©Paul van Schalkwyk
Sport and adventure
The Mole and adjacent Palm Beach provide a popular if somewhat cold swimming area, with the lee of the Mole serving as a launching place for yachts and other pleasure crafts. The contestants in the annual triathlon, which takes place in December, end their swim at The Mole.
Rossmund is a grass golf course with a unique desert setting located some 10 km inland from Swakopmund. The well-laid-out 18-hole golf course has been described as one of the most scenic and unusual in Southern Africa, with herds of free-roaming springbok in the surroundings adding to its charm.
The annual horse show, known as the Reitturnier, brings the best horses and riders in Namibia together.
Other sports are skydiving, dune-boarding, sand-skiing, paragliding, surfing and windsurfing, yachting, and angling from the beach or a boat. There are motocross and 4×4 rally facilities on the outskirts of the town.
The latest development in town is the multi-million Swakopmund Indoor Sport Centre, the only multi-sport complex of its kind in Africa. Spanning over 7 000 m² and comprising five storeys, the centre will accommodate more than 40 different sport codes and their supporting facilities and services. Stage 1 of the project was completed at the end of 2013. The entire development is scheduled for completion by the end of 2014.
Kayak and catamaran trips offer exhilarating experiences on the water. Photo ©Ron Swilling
Where to shop
Accessible from Sam Nujoma Avenue and Roon and Moltke streets is the Brauhaus Arcade with its many small specialist shops offering handmade leatherwork, art and crafts, furnishing and Namibian textiles, and embroidery. The Brauhaus itself is a popular bistro-type bar with seating outside, popular for serving large beers in boot-shaped glasses. Also housed in the arcade is Swakopmund's small cinema, the Atlanta Theatre, which screens mainstream as well as art films on a rotational basis. The main outlet for Art Africa is also situated here, selling quirky crafts and fine African tribal art, amongst others. Another branch is situated in Tobias Hainyeko Street, flanked by a corridor of craftsmen and the Art Africa Garden Café.
The Woermann Brock Arcade, accessible from Sam Nujoma Avenue and Roon Street, features regular shops and several outlets selling Namibian products. It leads into the Ankerplatz complex, also accessible from Sam Nujoma Avenue. In Tribes Trading in the adjacent Woermann Mall, 'Made in Swakopmund' T-shirts are painted as you watch. Featuring animals in bright, primary colours, these make colourful children's gifts.
Next to the arcade on Sam Nujoma Avenue, Small World is an outlet for unique handmade Namibian jewellery and leather goods. Semi-precious stones, ostrich eggshell beads, Owambo ekipa buttons and Himba metal beads are fashioned into stylish and original necklaces, bracelets and belts. Also in Sam Nujoma Avenue, Ikhoba offers a range of well-crafted embroidered goods in vivid colours, produced by 400 women of various ethnic groups as part of the Ikhoba Textiles Farm Project.
Meme Ikhoba, situated in Hendrik Witbooi Avenue, is another outlet for these goods. In the same street is Fleissige Biene, an outlet for home crafts.
Karakulia Weavers sells woollen carpets and wall hangings made from karakul wool, woven into designs depicting Namibian animals and desert scenery.
Heading south, Maid in Africa in Libertina Amathila Avenue stocks its own vibrant African fabric made into T-shirts, bags, cushions and placemats. The company also produces a range of artistic Namibian postcards, some with African sayings, others capturing interesting township signs and slogans. The cards have an African rhythm and theme, yet are contemporary and modern.
Studio 77, a photographic studio and outlet, is situated next to the shop, selling fine-art prints of work by local Namibian photographers. Another great place to shop is Kitsch Collectables, situated just down the road, selling a range of cleverly recycled products, as well as funky collectable items.
The Hoeka Toeka gift shop next to the Total Service Station in Sam Nujoma Avenue offers unique, hand-made arts and crafts for sale.
Namibian and African crafts are sold at two street markets. The first of these is situated opposite the old prison building on Moses Garoëb Street, and the second just below Café Anton.
Photo ©Paul van Schalkwyk
Photo ©Paul van Schalkwyk
Hand-crafted jewellery
A special feature of the coastal town is its outstanding jewellery shops, staffed by master goldsmiths and specialised craftsmen and -women, who design individual pieces with local semiprecious stones in styles ranging from classic and contemporary to Namibian, African and European.
One of Swakopmund's top outlets for handcrafted jewellery is African Art Jewellers next to the Hansa Hotel on Hendrik Witbooi Street, with a second, duty-free shop in Sam Nujoma Avenue, Swakopmund's main street.
At the Imke Engelhard Design Studio, award-winning jewellery designer, Imke Engelhard, transforms locally produced traditional shell necklaces into one-of-a-kind works of art.
An interesting museum-like shop to visit in terms of its mineral displays such as gigantic quartz crystal clusters is Kristall Galerie on the corner of Garnison and Bahnhof streets. It also offers jewellery featuring semi-precious stones for sale.
Art galleries
The Swakopmund Arts Association is situated on the first floor of the historical Woermann House. It showcases a wide range of diverse Namibian art, as well as a selection of works by European artists.
There are several commercial galleries in Swakopmund where contemporary Namibian art and crafts can be viewed and purchased. These include the Art Gallery in the Brauhaus Arcade; Die Muschel, which also sells books and prints and hosts a coffee shop; and in Sam Nujoma Avenue the Fine Art Gallery, which presents regular exhibitions.
The first Alliance Française Cultural Centre was opened in Swakopmund in September 2010. Art exhibitions and tea-and-cake afternoons are held, films are shown, a library is hosted and French classes are offered in the centre.
The largest quartz crystal cluster in the world. Photo ©Maggi Barnard
Photo ©Paul van Schalkwyk
Where to eat
Swakopmund offers a plethora of restaurants, many testifying to the German heritage of the town, such as the Bistro Zum Kaiser, Brauhaus, Kücki's Pub, and the Wurstbude. Coffee and German-style confectionery are served at Café Anton and Café Treff Punkt. Then there are Café Rosso, Wild Rocket Café, Pandora's Box & Coffee Shop, Bojo's Café, the funky Village Café, Slow Town Coffee Roasters, and Tea Time. The latest addition to the café culture is the Stadtmitte Café.
Raith's, the ever-popular Namibian bakery, deli, bistro and gelateria, is situated in the centre of town, and right around the corner the Art Africa Garden Café serves light, healthy meals. The Jetty 1905 offers seafood, sushi and oysters in a spectacular setting at the edge of the revamped jetty.
At the Mole, an all-time favourite – the Strand Café – now boasts a new look and menu, while The Lighthouse is a popular spot for watching the waves and indulging in a selection of foods. Erich's Restaurant offers unusual fare such as crocodile steak, while light meals are served at the Tiger Reef beach bar.
Then there's De Kelder, The Secret Garden Bistro, The Wreck, The Tug, 22 Degrees South, Desert Tavern, Western Saloon, Napolitana, Bits 'N Pizzas, The Fish Deli, Driftwood, 3 N'amigos Mexican Bar & Grill, Ocean Basket, Spur, and, and, and…
A market with fresh produce from the Swakop environs is held every Saturday at Shalom Farm, just outside Swakopmund at the turn-off to Nonidas.
The Swakopmund environs
The environmentally friendly Swakopmund Saltworks north of the town has been registered as a private nature reserve. The shallow expanses of water created to allow evaporation in the salt-producing process are ideal feeding grounds for thousands of wetland birds, such as greater and lesser flamingos. Damara terns breed on the surrounding desert plains and bring their young to the salt works to feed.
Other visitors are rare great crested grebes and a large colony of Cape cormorants. The Swakopmund River Mouth is also a good place for bird-watching.
Camel and horse rides are offered a short distance from the town. Cars and 4×4 vehicles can be hired to embark on day trips or safaris into the desert. Beach-buggy excursions to the beach, dunes or hinterland also include sundowner tours, hunting and fishing safaris, and dune and tyre surfing. Flights over the town and the shipwrecks along the coast can be expanded to include charter flights further afield, while specialised safaris take visitors to see the dune landscapes and plants of the desert.
Reputable air-charter companies take visitors on short flips over the dunes.
Wetland birds. Photo ©Paul van Schalkwyk
Flamingos. Photo ©Paul van Schalkwyk
Crashing waves. Photo ©Paul van Schalkwyk
Where to stay
Every conceivable kind of accommodation can be found in Swakopmund. The Strand Hotel Swakopmund is situated at the Mole. Here you'll find culinary delights and a first-class view of the Atlantic. Hotel Schweizerhaus is famous for its coffee shop, Café Anton, where traditional German cakes and pastries are served.
Built in and around the restored Old Station Building dating back to 1901, the Swakopmund Hotel & Entertainment Centre offers many entertainment options – from a magnificent swimming pool and restaurant to a gymnasium and casino.
Villa Margherita is an antique colonial villa under Swiss management located in the heart of Swakopmund.
Situated in Sam Nujoma Avenue, Hotel Zum Kaiser offers direct access to the beach and the town's vibrant street life, quaint architecture, shopping and fine dining.