Text Marita van Rooyen
We know you love the coastal playground and the excitement the hot summer days bring, but try not to become too stuck in the daily relaxation routine. There's just too much to see and do! Pile the family into the car and go out exploring for the day, or try some alternative stay-in-Swakop options. There are ample activities for the whole family!
Opt for an ocean-friendly adventure
Not called the 'mother of kayaking' without reason, Jeanne Meintjes of Eco Marine Kayak Tours has been getting up close and personal with the local marine life in the Walvis Bay Lagoon and waters surrounding the harbour town for more than 16 years. "When on a kayak you have the benefit of drifting across the water, and of coming eye to eye with our magnificent sea creatures."
So be warned. When the excited rowers start giggling, the seals also catch the vibe and start splashing about the kayaks, flirting with the oars, and smiling at the cameras. On a good day the dolphins will also join in the fun. "Because we row through the bay, the water is calm and flat, making it an activity for everyone, whether old or young, expert or beginner."
An outing with Jeanne starts and ends at the black-and-white lighthouse at Pelican Point, from where an abundance of birds and jackals can be admired while they are scavenging around the saltpans. Jeanne uses only double kayaks, making the experience even safer (and easier for lazy arms!), and providing everyone with dry bags for cameras, some 'very sexy' waterproof pants, a lifejacket, and all the other necessities for a day out on the ocean. Kayakers meet at 7:45, and are out experiencing Namibian marine life until just before lunch. Book your day out on the ocean with Jeanne at 081 129 3144, or emkayak@iway.na.
Spot a birdie, conserve a wetland
Walvis Bay Bird's Paradise is exactly what its name says: a haven for our coastal avifauna! Run by the knowledgeable Karel Naibab and his two female bird-loving co-workers, the aim is to showcase the beauty and different bird species in Walvis Bay's semi-purified wastewater ponds, which are fed by the sewage works (the area, by the way, is an important RAMSAR wetland), and to raise awareness of the birds' migratory routes and patterns between these ponds, the Walvis Bay Lagoon, Sandwich Harbour, Etosha Pan and further afield across the globe.
The endemic (and protected) dune lark, hordes of flamingos, pelicans, the rare African purple swamphen, chestnut-banded plovers, and blacksmith lapwings are some of the species that frequent these ponds.
To educate the public (and catch them while they're young), a monthly environmental school competition is held at Bird's Paradise, and school groups are frequently hosted. "It is crucial to understand the importance of wetlands for bird life, and of working together towards preserving this unique ecosystem," stresses Karel. He hopes to establish an environmental education centre within the near future, with environmental officers on site to answer those burning bird-related questions. A restaurant, tourist info centre and craft stall will be opened to the public soon.
Birds counts are conducted every Wednesday, and national bird counts in February and June. Join the counts! Get to know your birds! Binoculars are provided for better bird spotting. Contact Karel at 081 218 8325.
An oyster a day…
"He was a bold man that first ate an oyster." Thus said classic prose satirist Jonathan Swift. And we agree.
Oysters are not necessarily everyone's delicacy of choice. Enter China, the world's largest consumer and marketer of oysters. With a serious love for the salty little sea creatures, China has become the biggest purchaser globally of these treats (so many people, so few aphrodisiacs…). It follows that China and some of its Asian counterparts need Namibia's export-quality oysters to fulfil their insatiable requirements.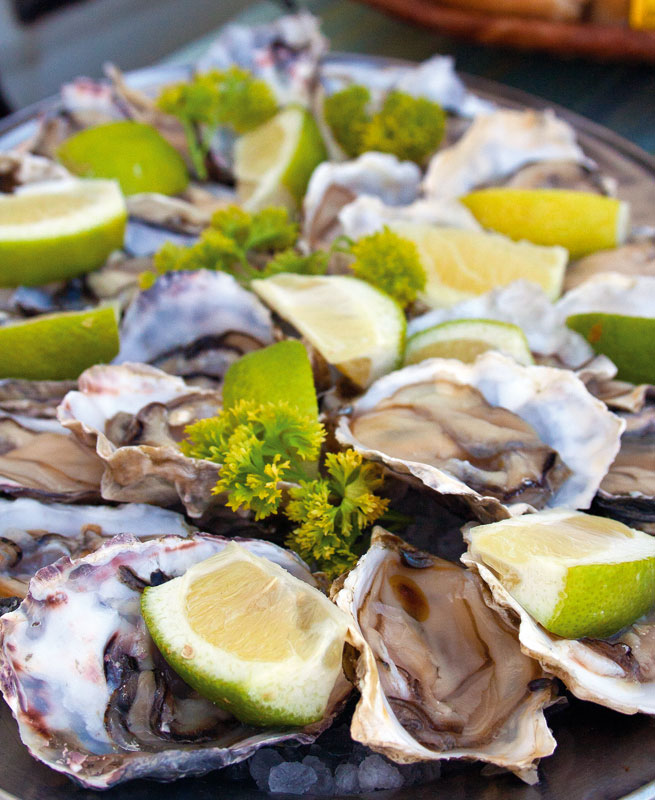 A mere 5% of the oysters handled by Walvis Bay-based oyster company, Seafresh Investments, are enjoyed locally, and what a pity, because according to consumers, Walvis Bay's oysters are amongst the best on the planet!
But fear not! Join Jim West, Seafresh's offshore director, on a tour of the company's oyster factory in Walvis, sample a fresh one, and then stock up on your own private stash. The good news is that a fresh oyster will survive in your fridge for up to a week!
Book an oyster tour, spend the morning at the harbour, and if you're not a convert yet, sample a few of these delectable delicacies and become one! Contact 064 22 1901.
Tripping to the Topnaars
Providing more than enough adrenalin for those who need a kick-start for the day, a Topnaar Tour sees guests negotiating the dune seas with quad-bikes or 4×4 vehicles, exploring the pathways of the modern descendants of our oldest population group, the Topnaars. Once with the Topnaars, loosen your tongue by learning a few crucial clicks of their language, test a local dish, and support the community by acquiring a piece of handmade art.
Among others, there's much to learn about the !nara plant, around which the existence of these legendary people is based. And believe it or not, the Kuiseb River mouth area is teeming with unique desert-adapted plants and animals, as well as fossilised tracks of elephant, rhino, lion and hippopotamus! And, says Oom John Reinders, who often guides these trips, "You'll be surprised to discover how much goes on underneath the surface!"
What a way to spend the day! Among a host of other things, you'll learn about Topnaar culture, tradition and surviving life in what is regarded as the oldest desert on our planet! A Topnaar drive typically takes about three hours, or longer depending on the size of the group. Organised by the PhotoVentures Activity Centre in Walvis Bay, contact the owner of the enterprise Herman Neethling at 081 128 6713, or info@photoventures-namibia.com.
Taste the township
As the pioneer of township tours in Walvis Bay, Fried Frederick says: "I love to get up close and personal and share my story with guests." And that's good, because this is what gives his customers that truly authentic cultural experience for which they travelled across the globe. "My main aim is to give clients an idea of how my people live, and to help them understand our situation, while also involving the people on the ground. At the end of the day, it is the people of the township that make the tours interesting!"
A typical tour through the Kuisebmond Township takes between three to four hours and includes visits to the colourful market hall, where traditional delicacies can be tasted and enjoyed, and excursions are made to a local kindergarten where the kids sing, dance and interact with guests; to the Multipurpose Community Centre offering programmes aimed at empowering women; and to the world-acclaimed Tutaleni Relocation Village.
Taking a break at the Mola-Mola shebeen, guests are treated to a traditional Oshiwambo buffet of porridge, bean soup, spinach, dried beef and mopane worms, customarily gobbled down with a fat jar of oshikundu. "These exciting glimpses into the lives of Namibians are accompanied by detailed explanations and historical information," says Fried. "I focus on person-to-person interaction and cultural exchanges."
So next time you visit the coast, break away for the day and join Fried on a combo tour of Kuisebmond, an ocean cruise, and a Sandwich Harbour 4×4 trip. Contact Fried at: 081 286 7758, or walvisbaytour@iway.na.
Cycling Swakop's panoromic sites
What's the difference between exploring by bike and doing it by car? Easy. In a car you miss out on the triple 's'es: the sights, sounds and smells!
Two innovative young men, Beetles Gertze and Paul Ndjambula, had the bright idea of sharing the three 's'es with customers using their own special touch, and established Panoroma Cycle Tours. And yes, this is not a typo: it's panoroma, as the Italians say, "Because it symbolises everything we stand for. Panoroma Cycle Tours focusses on exploring landscapes in an eco-friendly way, and offering an 'educational, eye-opening experience'.
The duo takes guests on bicycles through the Mondesa and DRC townships for half a day (in either the morning or the afternoon) – all gear included – to show them what makes township life unique. "This is something for everyone. We go at a slow pace, stop to talk to the people, take pictures, and eat kapana. Drinking beer is at your own risk though!"
They also offer bikes for rent (even going as far as delivering them to where you're staying), do nature hikes, treat customers to 'Swakopmund on foot', and make themselves available as bus guides. Moreover, you'll be happy to know that these two guys are involved hands-on in youth empowerment and training at the coast. Contact Paul or Beetles at panoromatours@gmail.com.
Gone fishing, not to mention tidal exploring!
The ocean's for fishing (amongst other things) and we know that for many, spending the day on the beach, casting the line, gulping down beer, and waiting for the big one is the ultimate way to spend the day. Meet Shane Milne, self-proclaimed authority on the ocean.
Boasts Shane: "Some people learned to read books. I learned to read water. Some people learned maths. I learned to make knots. In biology, students learned to dissect a frog. I learned to present bait! Now, 20 years on, I hold a master's degree!"
Shane's company, Aquanaut Tours, offers specialised shark fishing, and even overnight fishing safaris. And the bonus? Aquanaut's guides have an expert knowledge of marine life. Pointing out the Atlantic's special sights and sounds is part of any ocean package.
The company also conducts a highly informative Intertidal Drive, visiting what remains of the Kolmanskop shipwreck outside Swakopmund, and uncovering an ecosystem of unique tidal pools, abundant bird life and interesting history.
Contact Shane or office manager Nicky Schubert at 064 40 5969, or info@aquanauttours.com.
Dune days
Introducing you to the hidden magic of the Namib Desert and its fascinating plants and animals, is Hans-Dieter Göthje's Kallisto Tours. You have the option of experiencing a daring desert day – for a full, half or three-quarter day – focussed on the geological and climatic conditions. Be prepared to spot some of the Namib's warm-blooded inhabitants, such as klipspringer, ostrich and springbok, and plenty of other small creatures.
Leave civilisation behind for a while. Shed some stress and let off steam at the Ringing Stones. And while you're at it, become educated on some the many fascinating plants of the Namib, including lithops species (also known as Living Stones), a variety of lichens, and the remarkable living 'fossil', Welwitschia mirabilis. Look out for desert fauna, marvel at the Moon Landscape and play around the Swakop Valley, which is lined with tamarisk and acacia trees.
Desert tours close off with a visit to the shifting dunes. Kallisto also offers Mineral Tours, and day trips to the Spitzkoppe and Cape Cross Seal Reserve. Contact Kallisto at 064 40 2473, or info@kallisto.com.na .
Take a walk for history
You want to check out the Alte Kaserne, Amtsgericht, Hohenzollern-Haus, Woermann House, Kaiserliches Bezirksgericht and other of Swakopmund's historical colonial edifices as you cruise by on your way to the beach? Then this activity is for you. Angelica Flamm-Schneeweiss is your history guide. Says Angelica: "Don't expect to hear only facts and figures from the past, but also colourful and intriguing stories of Namibia and Swakopmund, and learn of the history and life in the desert town."
She stresses that Swakopmund is best explored on foot, and there's absolutely no doubt about that. So step into your walking shoes, grab a hat and explore historical Swakopmund with Angelica, 081 272 6693, or flammschneeweiss@mweb.com.na.
Alternative evolution
And now for something completely different: poi and fire spinning with Namibia's own fire starter, Zelda Lourens. "Performing with fire is getting back to the basic elements of life and finding freedom and expression through being in the flow."
And what is poi? "Poi originates from the indigenous Maori people of New Zealand, the word 'poi' simply meaning ball on a string. For over a thousand years Maori women have danced the Maori poi, a dance with balls attached to strings, swung rhythmically to keep their hands flexible for weaving."
Zelda will guide you to swing your tethered weights through a variety of rhythmical and geometric patterns, holding some impressive beneficial effects!
"A strong sense of community and self-teaching are key elements of modern poi. Fire, on the other hand, has been used as a gathering point for man throughout history and we have always been mesmerised by its power and fluidity. Finding ourselves staring into a fire seems to amplify our ability to slip into a meditative state."
Zelda offers poi and fire-spinning workshops for groups. She has even taught Angelina Jolie how to work the magic of poi! Contact her at 081 124 6081.
TNN Summer 2013/14