By Jana-Mari Smith
If you're looking for an all-round craft outlet, look no further than Marukuavi's Gifts and Beads stall on the ground floor of the Namibia Craft Centre.
Rosa Marukuavi Kahuna opened her business 12 years ago. She previously worked for the former owner, who taught her the art of making jewellery using an array of materials such as beads, wire, stones and wood. Rosa hasn't looked back since and now runs the shop herself. 
At this attractive stall you'll find necklaces, bracelets and earrings, crafted from glass beads, calabashes, bottle tops, bone, horn and paper, all fashioned into interesting wearable art.
She produces around 70% of the jewellery pieces herself, but also, for the sake of variety, buys art and crafts from other producers. "Our hands wash each other. I buy pieces from them that I can sell. In turn they are able to feed their families."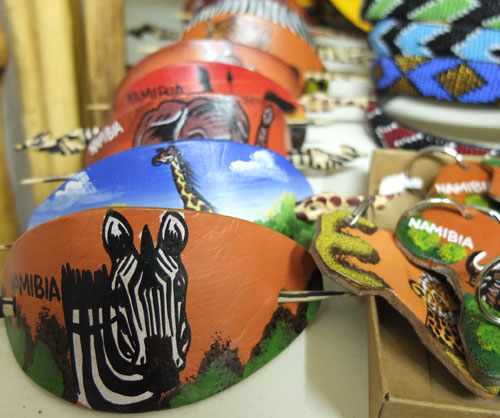 She says her job has taught her 'how to create employment'. She takes pride in the fact that to date she has managed to run her business successfully. Five crafters supply her with their wares on a regular basis.
Her stall is a feast for browsers, as it offers many different styles of jewellery, including rings, earrings, bracelets, cluster bangles, all fashioned from seed, shell and bone; animal-horn hair clips; functional items such as hand-painted cups and plates; nick-nacks made from wire and beads; painted wooden hairclips; and a range of items made from porcupine quills.
This is the perfect stall for spending a few minutes or more. You are guaranteed to pick up the perfect gift for your family and friends, if not for yourself.