JOINT VENTURES IN FOUR WILD PLACES
Photographs Olwen Evans & Piers L'Estrange
Artist Renders Greg Wright Architects
Elzanne Erasmus talks to Vitor Azevedo about his new tourism business, Namibia Exclusive, and the joint-venture lodges which will open in four Communal Conservancies in northern Namibia in August.
In my mind I was sitting on a porch in front of a luxury suite overlooking an omuramba interspersed with tall trees. A roan trotted past and in the distance the sun was setting over the backdrop of the wild Khaudum National Park. Then the scene changed and I was suddenly in the Sheya Shuushona Conservancy north of Etosha watching game drink at a private waterhole, my camera snapping away. The next moment I was tracking black rhinos in the Ombonde valley and then following a herd of desert-adapted elephants as they made their way down the Ugab River. In reality, however, I was sitting on a brown leather couch in an urban office space in Windhoek's northern industrial area, listening to Vitor Azevedo telling me about all these wonderful places with so much passion that I'm sure I could be forgiven for drifting off into a reverie.
Born in Angola, Vitor and his family came to Namibia in 1975 as refugees and settled at a camp in Grootfontein. Vitor was 12 years old and although the circumstances were devastating, Namibia served as a sanctuary, a place of safety and a new home. Vitor tells of how northern Namibia is not much different from southern Angola and the small settlement where he was born in the middle of the bush. The landscape, nature and people, especially the Himba, were a source of comfort to him and he recalls how even the smell of ochre reminded him of home. Namibia and its people became a part of him. He attended high school in Windhoek, left and only returned to Namibia just before independence. With new ideas and a passion for nature and tourism Vitor set off on a journey dedicated to conservation in his beautiful adopted country.
It is this conservation mindedness that led Vitor to the conclusion that when the time came to turn a lifelong dream into a tangible investment.  The protection of Namibia's natural resources was to play an integral part in every aspect of the project. With conservationist Vincent Guillemin four unique locations were selected where stunningly beautiful lodges could be built.
Xaudum Lodge
Situated in the isolated Khaudum National Park, Xaudum is the only lodge in this perfectly wild corner of the country, particularly enticing to avid wilderness lovers and adventurers. Xaudum's isolation creates a complete sense of freedom and it is so remote it will make you feel as if you have stepped 1,000 years back into the past.
Sheya Shuushona lodge
Sheya is found in the Sheya Shuushona communal conservancy on the northern border of Etosha National Park and owned jointly by Namibia Exclusive and the local community. With private waterholes, guests visiting Sheya have unmatched opportunities for game-viewing and wildlife photography at private waterholes.
Sorris Sorris Lodge
With natural wonders such as the Brandberg Massif and the Ugab River as a backdrop, Sorris Sorris is a Damaraland marvel. Here guests can delve into wonderful activities – like nature drives to find desert-adapted elephants or hot air balloon rides over the rugged landscape.
Omatendeka Lodge
Nestled in a valley in the midst of the Etendeka Mountain range, Omatendeka is an ideal refuge between the desert plains and Etosha National Park. A natural spring gives life to wildlife Namibia is proud to call its own, including desert-adapted lion prides, Hartmann's mountain zebras and black rhinos.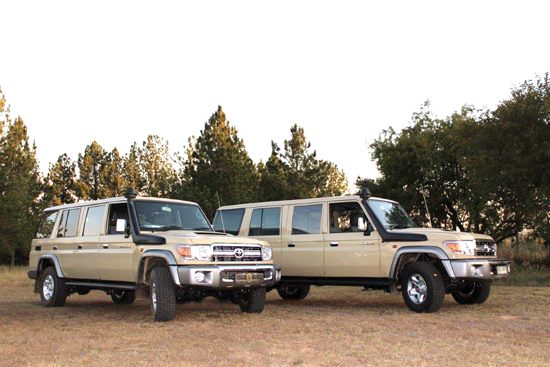 These developments would not only serve as the ultimate in luxury and exclusive accommodation, but would also help to strengthen the communities in which they were located and assist in conservation efforts such as eco-friendly tourism and anti-poaching. Vitor firmly believes that the most beautiful places in Namibia can be found within conservancies and conservation areas, simply because they are so completely wild and untouched.
The location of each individual lodge therefore boasts unparalleled exclusivity. The respective natural surroundings and community cultures played an integral part in the design of every aspect of the site.
Vincent notes how each location has its own special wildlife attraction and that the mere presence of the lodges acts as a passive anti-poaching mechanism.
Each lodge will also be operated on an eco-ethno-tourism basis aiming to integrate the people of the area, who are the most important asset. Every lodge will strive to hire at least 70% of its staff from the local communities and train community members for specialised jobs.
With the award-winning chef David Thomas at the helm, each meal promises to be a culinary masterpiece, personalised for dietary needs and made in an elegant visually crafted approach. Chef David is training the Namibian chefs to each head their own kitchen at one of the four lodges. He will oversee the creation of every unique six-course menu, the drinks and wine lists, adding Namibian crafted foods to the ingredients, ensuring each lodge provides a different gastronomic experience.
L'Art de vivre: the art of living. That is the phrase that comes to mind when you absorb the hopes and dreams and pure zealous energy that drive Namibia Exclusive. With such unequalled exclusivity and unique locations, a masterpiece unfolds in the mind's eye and, I for one, am extremely excited to see dreams and passion manifested in such a way on Namibian soil. TNN