'It never rains, but it pours' is a good way to describe much of Namibia's rainfall.
By Annabelle Venter
Namibia's rainfall typically takes place during the summer months.
Generally speaking, the north-eastern areas receive most of their rainfall during December and January, and further south-west the highest rainfall periods fall in January to March.
Summertime is a long, hot waiting game… waiting for the rains. But there's a beautiful reward at the end.
By late summer most of Namibia is in the grip of extremely dry weather and the beige-toned landscape seems to be holding its breath in anticipation for the rains to make their appearance.
As December draws to a close, our northern regions have received their first rains, while further south we are often still waiting. We watch the magnificent clouds build up every afternoon, billowing out from the east. But no, it's not yet our time to celebrate. So we continue waiting.
DID YOU KNOW?  The average annual rainfall for Swakopmund is often less than 20 mm and for Katima Mulilo is around 700 mm!
When the rains do start, it's such a welcome relief that they become the hot topic of conversation among all Namibians, the main question being: "How much rain did you have?"
Rain-meter sales probably rocket towards the end of the year. After the oppressive build-up of heat, we love the cool nights, lying in bed listening to the rain on our roofs and the thunder rolling around in the skies. We wake up with a sense of renewal; everything seems freshly laundered and revitalised. Our skins are less dry and the landscape seems to turn green overnight.
Come December and Namibians are winding down for their annual holidays.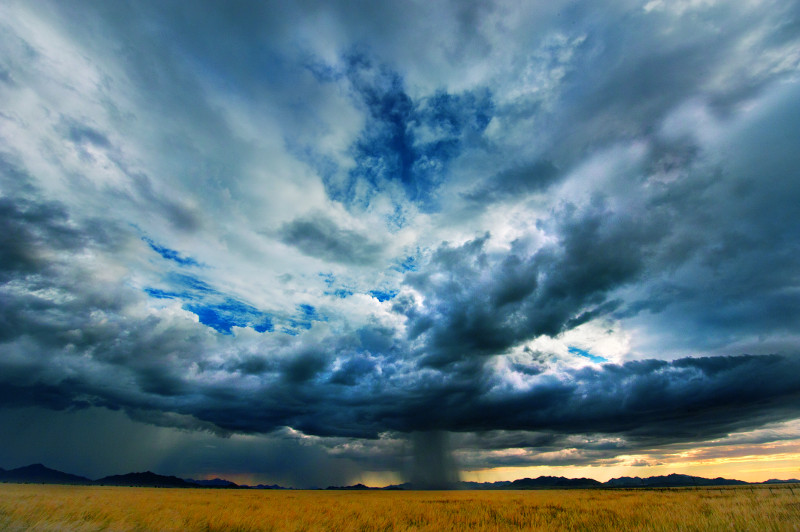 Many look forward to going home to the Owambo and Caprivi regions to reunite with their families and work in the fields.
This is a much-anticipated economic activity every year, and depends crucially on rainfall – how much and when it falls. It's a time to celebrate and renew social ties, and for many, the cultivation of the land strengthens traditional bonds.
To escape the stifling heat of the interior, city dwellers head off en masse to the coast where it's cool. For some it's the time to angle – for others to simply relax and catch up with friends and family.
Up in Caprivi, the summer rains will already be in full swing, while in Etosha the land is often still dry.
December and January before the rain, is an excellent time to visit Etosha, as game and predators must congregate around the waterholes.
This is where you'll see thousands of birds gathering to drink – red-billed queleas, shaft-tailed whydahs in breeding plumage, and summer avian visitors like Abdim's storks.
The trees will be alive with twittering, thirsty birds, and all over you'll hear the plaintive calls of cuckoos – a sure sign that summer is here.
All the cuckoos are summer visitors, along with European bee-eaters and European rollers. In January/February the red-billed queleas are nesting – thousands to a tree – and wattled starlings will entertain you with their clown-like plumage.
By December the springbok have usually started lambing and it's fun to try and spot the very first babies! This is definitely the hottest time of year.
When travelling between Okahandja and Karibib or north of Okahandja you may see people along the roadside selling wild, giant, edible mushrooms. Called omajovas, they are a delicacy that grow at the foot of termite mounds and appear only after sufficient rain.
In February, about three weeks after the first good rains, summer flowers begin to appear all over the country. Near Maltahöhe, you might be lucky enough to feast your eyes on the pink lilies, Crinum paludosum in bloom in a pan on farm Sandhof – 800 hectares of them in a good year!
You'll also find the central highlands and beyond carpeted in the tiny yellow 'duwweltjie' flowers. In Omaruru, next to the Franke Tower, the annual spectacle of the pink lilies Crinum buphanoides is a sight not to be missed by any lily-lover.
January and February are good months for swimming in Swakopmund, as this is when the water is at its warmest.
With summer comes an increased risk of malaria
The hot, humid conditions and standing pools of water create an ideal breeding scenario for mosquitoes.
Malaria is still the number-one killer disease in Africa, so be sure to take prophylaxis if you plan to visit areas north of Windhoek, especially during the rainy months. In years of increased and prolonged rainfall, the risk of contracting malaria is also increased and prolonged.
Consult your family doctor before leaving home, as some prophylaxis regimes need to be started before your trip. And remember to mention that you visited a malarial area if you should become ill on your return home.
Rub or spray on mosquito deterrent and wear long sleeves, long pants and socks if sitting outside at night, Sleep under a mosquito net when possible.
Common symptoms of malaria include: headache, fever and rigours (violent shivering), which typically begin one week to a month (sometimes longer) after you've been bitten.
| | |
| --- | --- |
| New moon | Full moon |
| Nov 14 | Nov 28 |
| Dec 13 | Dec 28 |
| Jan 11 | Jan 27 |
Coastal averages for summer
| | | | | |
| --- | --- | --- | --- | --- |
|   | Average Minimum/maximum temperature (°C) | Average Rainfall (mm) | Wet Days (>0.1 mm) | Relative Humidity (%) |
| Coast January | 15/24 | 0 | 1 | 27 |
| Coast February | 16/23 | 5 | 1 | 35 |
| Coast | /22 | | | |
| Coast | /22 | | | |
Central highlands averages for summer
| | | | | |
| --- | --- | --- | --- | --- |
|   | Average Minimum/maximum  Temperatures (°C) | Average Rainfall (mm) | Wet Days (>0.1 mm) | Relative Humidity (%) |
| Windhoek in January | 17/30 | 77 | 8 | 40 |
| Windhoek in February | 16/28 | 73 | 9 | 46 |
| | /30 | | | |
| | /30 | | | |
Caprivi/ north-eastern Namibia averages for summer
 

Average Minimum /maximum Temperatures (°C)

 

Average Rainfall (mm)

Wet Days (>0.1 mm)

Relative Humidity (%)

Caprivi in January

19/31

 

128

12

50

 

Caprivi in February

18/30

 

147

13

53

Caprivi

/33

Caprivi

/32

 

 

 

 

 

 

 
 This article was originally published in the Travel News Namibia summer edition of 2012.