by Marita van Rooyen
Etosha Safari Lodge, which is situated about 10 kilometres from Andersson Gate, the southern entrance to Etosha National Park, is built on top of a hill, overlooking vast areas of African bush.
It offers accommodation in the form of 55 double-room chalets, built in the traditional German colonial cottage style, all air-conditioned and with verandas offering private views over Etosha and the surrounding hills.
The bedrooms are fitted with mosquito nets and black steel furniture, and have walk-in shower areas and cool cemented floors, which add to a pleasurable bush atmosphere.
The main building consists of a restaurant, bar, curio shop and reception area. It also boasts a small observation tower, where sundowners are served while guests enjoy a panoramic view of bush and wildlife.
The lodge has three different swimming areas, situated in such a way that they are within easy reach of any chalet.
In the competent hands of manager Hilma Amutenya, who has been with the Gondwana Collection since 2002, and with the vision to make Namibia affordable for local travellers, the lodge certainly has a bright future ahead of it.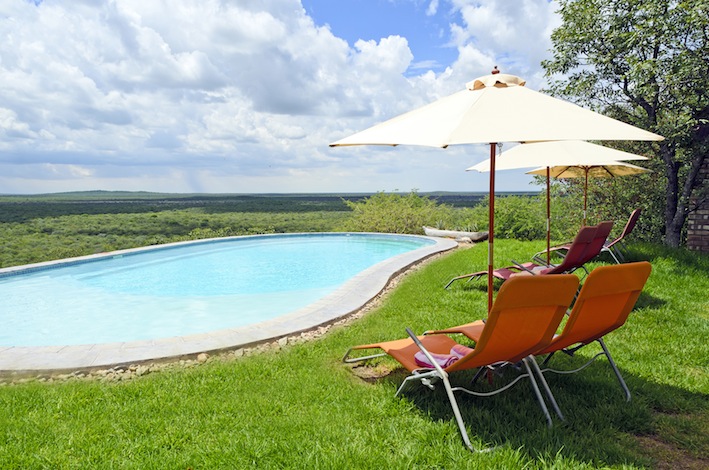 In addition to the lodge, Etosha Safari Camp, situated two kilometres away, offers more of pure Africa, with the very popular Oshebeena Bar, that has its own local musician – picked up originally as a blind singer by managing director Mannfred Goldbeck and who turned out to have perfect eyesight in addition to a very nice voice.
In addition to offering quality accommodation, Gondwana focuses on the development and management of nature parks, as well as supporting a social programme for staff and the communities from which they come. A shuttle service will run daily between the Etosha Collection and the capital city and game drives into Etosha are another option to choose from.
This article appeared in the Feb/March '09 edition of Travel News Namibia.
Photos courtesy of http://www.gondwana-collection.com/home/accommodation/etoshasafarilodge/etoshasafarilodgeimages/