by Marita van Rooyen 
The region surrounding the Andersson Gate, the central-southern entrance to Etosha, is known for its vast areas of mopane woodland. And what an ideal setting for a lodge – beautifully hidden away in natural forest.
Pathways lead through a dense thicket of mopane to your room. Just before you start worrying that you might be lost in the woods, you find yourself at the door. Home-baked sweets, handmade wooden benches and recycled glass bottles decorated with beads welcome you to your African dream.
White bedlinen, down duvets and soft mosquito nets – covering your bed like a bride's veil – create the ambience of a fairytale. Benches and chairs nestled under large trees and in small nooks and crannies invite you to sit down and let the magical atmosphere engulf you in a land of faraway dreams and safari sounds. This is where you'll experience true Namibian bush hospitality.
And this is just the first impression. Dinner is a four-course meal, complemented with fresh herbs and home-baked bread. Springbok bobotie, chicken pie, gemsbok steak, pasta, sweet pumpkin, broccoli and herb-infused potatoes are rounded off with the perfect cherry on the top – baked marshmallow pudding – not to mention the traditional dancers, who might well bring tears to your eyes as you chew on that delectable piece of tender steak.
There are three family rooms (each sleeping up to five), six guide/single rooms and four luxury rooms – all with coffee station and minibar – and 22 standard rooms. For that extra peace and quiet, cars are not allowed to park next to the rooms.
Toshari's camping facilities are probably the best in the area: each site is located on lawn and has electricity, its own open-air ablution facility, braai (with firewood) and small herb garden for that mouth-watering potjie you've been craving since you left the city.
Under the tree, you'll find the perfect message for your stay: "Shhhh… listen to the night." Be sure to book in advance though, as there are only three camping sites. In the afternoon guests are invited for cake and coffee, on the house.
Relax with a board game under the lapa, or with a refreshing cocktail in the 'margarita pool'. Swim a few laps in the 'normal' pool; go on one of the hour-long hikes; appreciate the quietness throughout the day; take a game-viewing drive into the Etosha National Park. Alternatively, be entertained on the stoep by Herman, the half-tame mongoose.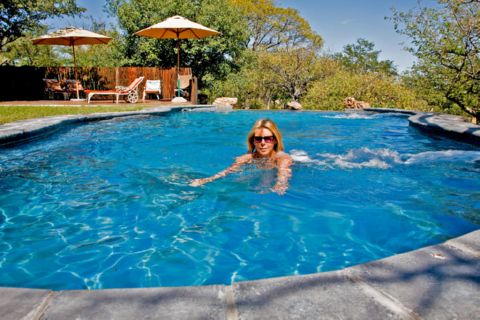 Or go treasure hunting; you'll find a new surprise under every tree, be it a signboard reminding you to relax and appreciate nature, a tin heart hanging from a branch, a small patch of fresh herbs or a display of potted cacti. All these small creations are the work of manager, Christa Fokkens, who is "…not an office person. I'm always thinking of something new to do, something that will add to the homey atmosphere."
Toshari Lodge is situated a mere 25 kilometres from Okaukuejo off the main road (C38) between Outjo and Etosha. As the message on that aloe leaf at the entrance welcomes you, "Come inside, we can't wait to meet you."
This article appeared in the June/July '10 edition of Travel News Namibia.