Text and photos by Ron Swilling
Tucked between two powerful natural expanses – the Namib Desert and the Atlantic Ocean – the town of Swakopmund exists with incongruities, idiosyncrasies and many surprises.



The wide streets, old German architecture, coffee shops and restaurants serving specialities such as black forest cake and eisbein (pig trotters), are surrounded by a medley of desert environments. A belt of striking sand dunes creeps down to Walvis Bay in the south, an easterly route leads over gravel plains towards the capital city of Windhoek approximately four hours away, and to the north a salt road leads to the infamous Skeleton Coast where ships and sailors once warily eyed barren stretches of desert, and whale and seal bones litter endless beaches amongst flotsam delivered from flood-raging rivers or shipwrecked vessels.
The names of the wide Swakopmund streets began evolving after Namibia gained independence in 1990 to include African nomenclature, like Sam Nujoma and Nelson Mandela (avenues), retaining golden oldies such as Bismarck Street. For a taste of Namibian culture a short distance from the palm-treed centre of Swakopmund, Mondesa township tours give a taste of Africa where delicacies such as mopane worms and home-brewed beer can be sampled at the local shebeens (informal bars), and local dress, customs and remedies (for instance burnished ostrich eggshell powder for an infant's upset stomach and baboon dung for wounds) of the various Namibian groups discovered.
The town is often shrouded in a chilly mist, becoming a Brigadoon that peeps out of a pocket of moisture brought in by the icy Benguela Current flowing northwards in the tempestuous Atlantic Ocean. This is the moisture that sustains the hardy flora and fauna of the Namib Desert, considered to be one of the oldest in the world. Arriving at the town, a bank of cloud may greet the visitor or in the winter months a sandy hot east wind that shakes the palm trees and transports sand under doors.
In the surrounding desert, Moon Landscape tours visit thousand-year-old welwitschia plants, which exist in extreme conditions demonstrating life's ability to survive on a scattering of raindrops, and views of ochre landscapes compete with the craters on the moon for starkness and austerity. The thirty-kilometre drive south to Walvis Bay passes between rolling apricot sand dunes and a crashing turquoise sea.
Seal and dolphin tours cruise the Walvis Bay lagoon identified as an important Ramsar site for wetland and coastal birds such as flamingos and pelicans, visiting a seal colony, inviting friendly seals on board, at times attracting heaviside's dolphins that skim past the vessels, and give unusual views of desert landscapes from the sea. Kayaking amongst the seals adds the personal experience and perspective to the trip.
Desert excursions take you into the Namib-Naukluft Park, south of Walvis Bay, for exploration into the dune world and to the natural Sandwich Harbour, once fishing port and now a narrow freshwater lagoon meeting salty ocean.
If these excursions seem too tame and timid for you, Swakopmund is considered to be the extreme sports centre or 'Victoria Falls' of Namibia. Activities range from sand-boarding and quad-biking in the dunes to land-sailing, paragliding and skydiving. Ballooning above the Namib Desert ending with a champagne breakfast or a scenic flight to Sossusvlei is for those with a deeper pocket and love of open skies. Those more ground-based can enjoy a sunset horse ride along the Swakop River or a visit to the Camel Farm on the B2 road towards Windhoek.
Swakopmund has a crystal gallery (Kristall Galerie); a museum that covers the history of this intriguing town as well as housing a stimulating People of Namibia display; a small aquarium; a Save the Rhino Trust office; and a snake park. It offers arcades of restaurants where German-brewed beer can be sipped, brötchen (bread rolls) snacked upon, coffee and cake eaten, and a range of culinary fare devoured.
In between book and curio shops, century-old buildings with quaint German architecture give the town its interesting air and character. They remind us of a past when members of a fledgling German colony landed on a desolate coastline, attempting to create a harbour for its European goods by constructing a breakwater (as seen at the Mole today) and a jetty, transporting goods by oxen and eventually building a railway into the interior of the arid country, thus linking Europe and Africa.
On misty days good places to visit are the Swakopmund Museum; Walvis Bay, where there are often sunny skies; and the desert towards the interior, beyond the Swakopmund mist pocket. A walk along the wooden jetty will provide a highly atmospheric experience.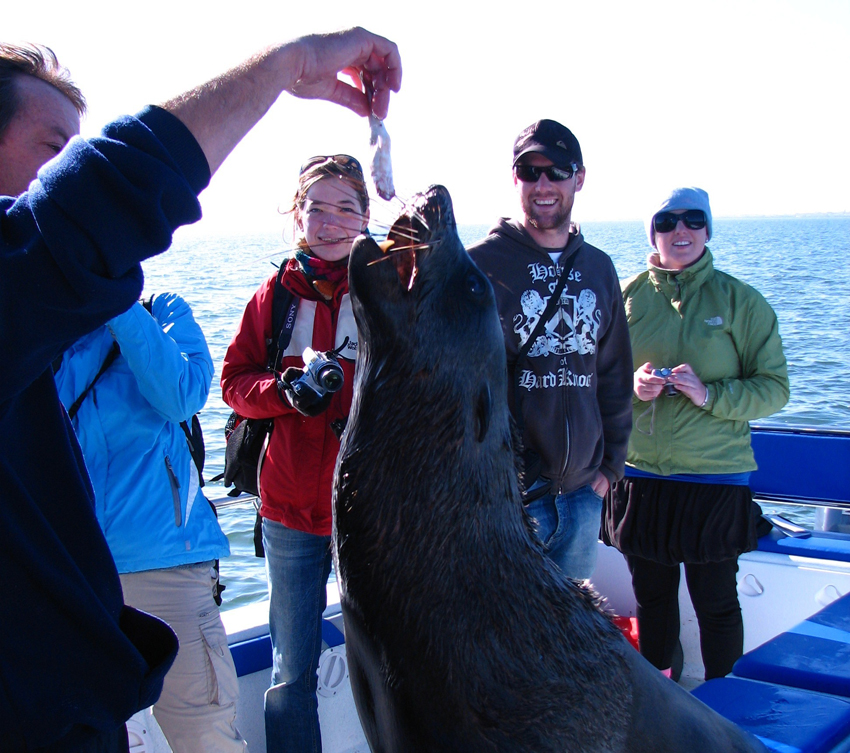 Further activities include a township tour for a taste of local Namibian culture (Hata Angu or Mondesa Township Tours); desert excursions for knowledge of the incredible flora and fauna of the Namib Desert; guided 4×4 trips into the Namib-Naukluft Park for the grandeur of the sand-sea; and dolphin and seal cruises.
Climbing the stairs of the Damara Tower of the 1905 Woermann Haus, once used as a look-out point for ships, proffering a view of an often mist-laden town stretching to the surrounding sand-dunes and sea, you can, for a few brief moments, entertain a flash of history when, in 1892, 120 Schutztruppe and 40 settlers arrived on the Marie Woermann ship to a bleak piece of desert scenery on the south-west African coast.
With this image jiggling, lurking in your being, Swakopmund gains a sense of history, of intrepid beings finding an isolated area with a source of fresh water to call home. Whether passing the renowned Hansa Hotel or eating a delicious lunch at the Lightkeepers Cottage, history pervades, merging implausibly and extraordinarily with the landscape, people and rhythm of Africa.
This story was originally published in the August 2009 publication.