Text and photographs by Annabelle Venter
A visit to the hot Namib desert haven, alive with small creatures – where sand surface temperatures can rise to 75 degrees C …
It occurred to me recently that I have, like Smokie's hit song, "…for twenty five years been living next door to Alice"… or rather, the Namib! What a disgrace it seems now – literally being here for 25 years and never having seen the famous little creatures of the desert. 
So Bertie and I decided to rectify this and booked ourselves on Tommy's Living Desert Tour last Monday.
What a treat this proved to be – even the overcast, dull lighting couldn't deter this couple of keen photographers.
Tommy drove us effortlessly through countless dune fields and with great enthusiasm spotted the Little Five as he refers to them, each discovery for us more exciting that the last.
We began with formic acid producing ants followed by the smallest daytime spider of the Namib, then rounded the corner to find a chameleon relaxing on the sand. Have you ever seen a chameleon looking forward with both eyes like this?
Each time we leapt out with glee and flattened ourselves on the ground to photograph his discoveries. Mist fogged up the camera lenses dramatically at one point so we had to change lenses while the others dried out.
Eventually the sun did appear, but not before Tommy showed us the magical rainbow-coloured Palmato ghecko (which doesn't like the sun anyway because it's nocturnal).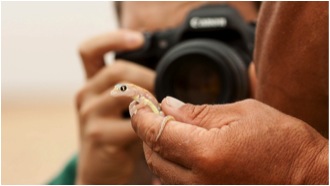 This beauty was my favourite fairy of the day and quickly took up the most space on my SanDisk before it was returned to its under-sand world.
We finished off with the legendary sidewinder snake (two in one spot!) and Tommy's friend the trac-trac chat, which came to look for a snack.
We heard so many fascinating facts but I must admit I couldn't take it all in as I was hard at work trying to capture the images.
We then learnt that Tommy also does specialised photographic tours which we'd like to do next time.
This was an excellent introduction to the desert specialities though, and I would recommend everyone go out there and get acquainted with what's in our backyard, the Namib. Can't understand what took me so long…..?
Interesting facts:
Dunes are "alive" and move about 2m a year
The sea-facing slope of a dune is 20 degrees C cooler than the land side
The sand temperature can reach an astonishing 75 degrees C
When you drive over or disturb lichen plants, they take 40 years to start regenerating again
The largest leaves of the dollar plant can be used by humans for water in an emergency
The nocturnal palmato gecko lives about 30cms under the sand during the day
On the land side of the dune, 14cm deep = 14 degrees C cooler
Annabelle Venter is a valuable and regular contributor to Travel News Namibia and other Venture Publication publications.
She has lived more than half her life in Namibia and is based in Windhoek. She says she loves to lose here in the "beauty of my spot on the planet. I write about it, photograph it and try to capture it in my ceramic work. I feel most at home outdoors, in a shady riverine forest anywhere north-east of here".
Fittingly Annabelle says her favourite soundtrack is the "African bushveld at night. Mozart will also do". Her motto is to try and "live lightly on the earth". 
Here are links to some of her stories: