By Jana-Mari Smith
As an offshoot of the success of the !Ikhoba project, which started 30 years ago, the African Chic stall at the Namibia Craft Centre offers visitors a chance to sample a treasure trove of unique and handcrafted African arts and crafts. It is all about "seeing and experiencing all African treasures in one shop", as one of the shop's owners put it.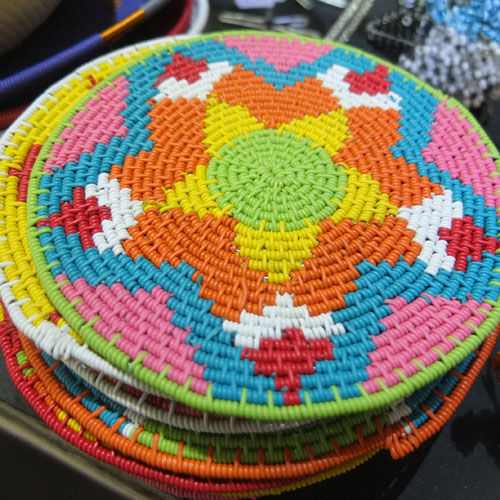 Owned by the founders and members of the !Ikhoba projtect, a project that has afforded hundreds of women across Namibia the chance to earn an income from creating a variety of crafts, African Chic was opened when the original founders – Karin Lacheiner– decided to offer a wide range of African arts and crafts. The aim was to showcase the variety and creativity of several African nations.
Mildred Kehrmann (daughter of Karin Kehrmann) joined the project in 2011. She explained that "each African country has its own signature art/craft work. For example, Zimbabwean artists are excellent with beads and wire, whereas Kenyan artists can transform wood, bone and horn into the most imaginative goods". 
All the products sold at African Chic are "unique and handcrafted goods made from natural or recycled materials", Mildred explained. The arts and crafts are mainly from Namibia, South Africa, Kenya and Zimbabwe. 
Mildred said the job of keeping African Chic supplied with goods, is an exciting and fulfilling task. "Experiencing different exhibitions where numerous African countries showcase their best products is always a big inspiration for my mother an myself. We also love visiting small non-commercial markets where it always feels like a treasure hunt for something new and unique". 
Visit the African Chic store at the Namibian Craft Centre in Windhoek. You can also visit the sister shop – !Ikhoba – at the Namibia Craft Centre. The Kehrmann family also has two stores in Swakopmund: !Ikhoba in Sam Nujoma drive and Summer Salt in Daniel Tjongarero road. 
CONTACT: ikhoba@iway.na
YOU MIGHT ALSO LIKE:
!Ikhoba – Dignity and Empowerment