Compiled by Sanet van Zijl
1. TAKE A SEAT WITH PENDUKA
Kobo Crafts at Penduka has produced a range of unique seating stools that will brighten up any room. A bucket is used as the main structure for these interesting chairs and there are many different colours and African patterns to choose from. They're comfortable, modern and eclectic – what more could you want from a chair? Situated 12 kilometres from Windhoek, Penduka is a development project aimed at empowering women to take charge of their lives. Penduka means 'wake up' in the Oshiwambo and Otjiherero languages. The Penduka ethos is about making women recognize their potential, their talents, the possibilities open to them and how they can capitalise on these towards earning a livelihood. Contact Penduka at +264 61 257 210 or visit their website at www.penduka.com. They can also be found at the Namibian Craft Centre.
Seating Stools N$ 875
2. ADD SOME LIFE TO YOUR HOME
Various Namibian artists have been given the opportunity to showcase and sell their original artworks at Ekipa at the Namibian Craft Centre. These bright, hand-painted pieces will not only be a treat for the eye, but they will add warmth and some Namibian flavour to your home. The owner of Ekipa loves all things naturally Namibian and this is evident from all the products that they display. Ekipa is mainly a jewellery vendor, but the art pieces on show at the shop shine just as bright as the intriguing pieces made by Grit Bottcher. Contact Ekipa to get your hands on these beautiful works at +264 61 258 743 or email pinsel@iway.na.
Artworks N$450 – N$600 (See main photo)

3. A POCKET-SIZED NAMIBIA
If you're looking for a piece of Namibia to take home with you, look no further than Emage Workshop at the Namibian Craft Centre. They stock two different sizes of tins filled with bits and pieces of materials you would find all over Namibia. The small tin contains Namibian sand, a piece of ostrich eggshell, a piece of porcupine quill, a guinea fowl feather, a piece of leather, a lucky bean and a wooden bead. The larger tin contains the same as the smaller one plus a bean called "the alien" and a Namibian animal charm. The team of Emage Workshop has been crafting for over ten years and is thoroughly experienced with the skill-development and discipline required to fuse the open-ended, unstructured artistic process on the one hand with the goal-oriented, structured process on the other. If you would like to contact Emage Workshop, call +264 81 270 0852 or email emageworkshop@gmail.com.
Small tin N$30
Large tin N$40
4. LUXURIOUS WEAVES FROM KIRIKARA
The inside of Kirikara is covered with an array of woven rugs and carpets. If you wish to purchase a one-of-kind floor covering or wall hanging, the possibilities in this shop are endless. They start with pure wool of exceptional quality, which is extremely durable. The entire production process is completed by hand – from spinning, dyeing and weaving to the final product. The designer uses a spectrum of over 200 colours: strong and subtle tones, primaries and pastels. Carpets of up to four metres wide and up to virtually unlimited length can be made to order. Find Kirikara at the Bougain Villas Centre at 78 Sam Nujoma Drive or call them at +264 61 24 54 68.
Large N$ 13 000 – 16 000
Mid length N$ 6530
Small N$ 1800 – 4400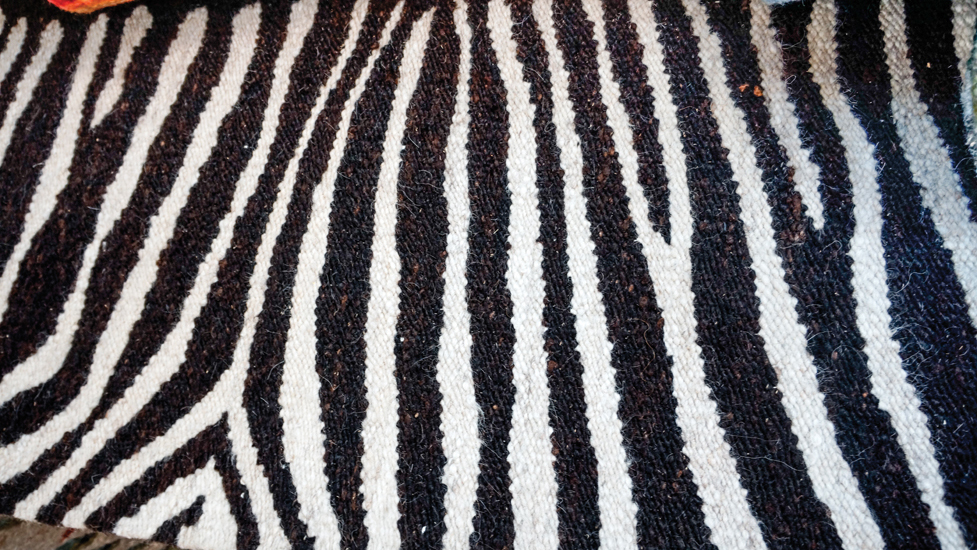 5. KEEP THE COLD AT BAY
Winter is upon us and using a water bottle is a good way to stay warm and toasty during the chill. Casa Anin offers some lovely handmade water bottle covers to stay warm and stylish at the same time. Known for some of the finest Namibian bed linen and home textiles, Casa Anin has been committed to quality and service for almost 30 years. All their linen is handmade by a loyal team of Namibian women and sold at Casa Anin at the Bougain Villas Centre. Their products are also available online at www.anin.com.na. Phone them at +264 61 256 410.
Water bottle covers N$195