Restaurants: Where to dine on your last day in Windhoek
August 10, 2018
Solar power at Chobe Water Villas
August 20, 2018
"Where are your friends?"
"Why are you all alone?"
"Where is your husband?"
These are but a few questions that Namibians ask Solenne when they meet the ever-smiling, petite French girl. The long straight Namibian roads, seemingly endless, have become her home for a couple of months while she taught French in Windhoek.
Solo travelling is a thing, but mostly a thing I personally have done in Europe with endless options ranging from Blablacar to the very cheap (though ever-lasting) Flixbus or EasyJet. Since we do not have all that in Namibia, and hitchhiking is not exactly my cup of tea, it was time to rope in one of my contacts to talk about solo travelling and hitchhiking in the land of the brave.
Solenne Horellou, a French lady from Tours, recently sat down with me for a coffee and a chat. I introduced her to my colleagues as "the professional hitchhiker", because it is a reputation she has been living up to, not only in southern Africa, but also in the Middle East, Asia, and Europe. What a cultural learning school it has been! She has left Namibia, her life enriched by countless cultural experiences and beautiful memories. This is how she got to know the country and its people first hand.
Solenne shared a couple of experiences that stood out to her.
11 things Solenne learned while hitchhiking through Namibia
    

Just go with it.
Don't fight it when your plans change along the way. Once while hitchhiking to Opuwo, she got a ride with a British couple who was on their way to Epupa Falls. Solenne ended up travelling all the way to Epupa with them to experience the spray of the Epupa Falls. The couple shared their tent with her, so that sorted her accommodation for the night.
    

If you are a young girl travelling solo, make sure it works for you.
A lot of people give her a lift because they are concerned about her safety, although she says she has never felt uncomfortable or in danger.
    

You never know who will cross your path a second time.
On her way to meeting friends in Ongwediva in the north, she met the same person who previously gave her a ride in the vicinity of Windhoek.
Even if people are initially sceptical and reprimand her in a way, they are still extremely curious and show a lot of interest.
Solenne has been called "a tiny bit crazy" more times than she bothers to keep track of. But people nevertheless pick her up, sometimes out of sheer curiosity. They always bombard her with questions that she happily answers, and of course, most of the time they part from each other as friends.
People are very kind and respectful.
This point speaks for itself, really. She does not have a bad word to say about Namibians.
    

Catching a lift with locals will keep you in the loop of things.
For example a flashy parade of black cars and checkpoints… she learned from her newly made friends that the president was on his way past. Baffling tourist mystery solved.
A sky full of helicopters could be a frightening sight… until one of the locals tells you that it is for transporting medical doctors to remote areas.
It is a good way to build up your contact list.
These days it is all about networking. Ever noticed how travellers are never alone?
    

People who do not drive off after leaving you at crossroads are the people worth knowing.
Some Namibians are not too convinced about simply leaving her alone at crossroads with no other soul in sight. One guy, who gave her a lift to her desired crossroads, actually stopped another passing car. One that wasn't too dodgy-looking according to him. He wanted to do as much as he could from his side to ensure that she safely reached her destination.
    

Hitchhiking through southern Africa is definitely doable.
She has covered a large part of southern Africa, hitchhiking through countries such as Botswana, Zambia, South Africa, Angola and of course Namibia.
 

Transfrontier hitchhiking is possible.
A guy offered her a lift from Namibia across the border to South Africa. The official at border customs enquired whether she was sure she was with him out of her own free will. Although she answered "yes", he still gave the driver a friendly warning to take care of her.
 

The right time and the right place
In Gaborone, Botswana, she met a football team from Namibia in a supermarket parking area. As she was coincidently looking for a ride, they offered her a lift back to Windhoek. They turned out to be the most fun road trip companions.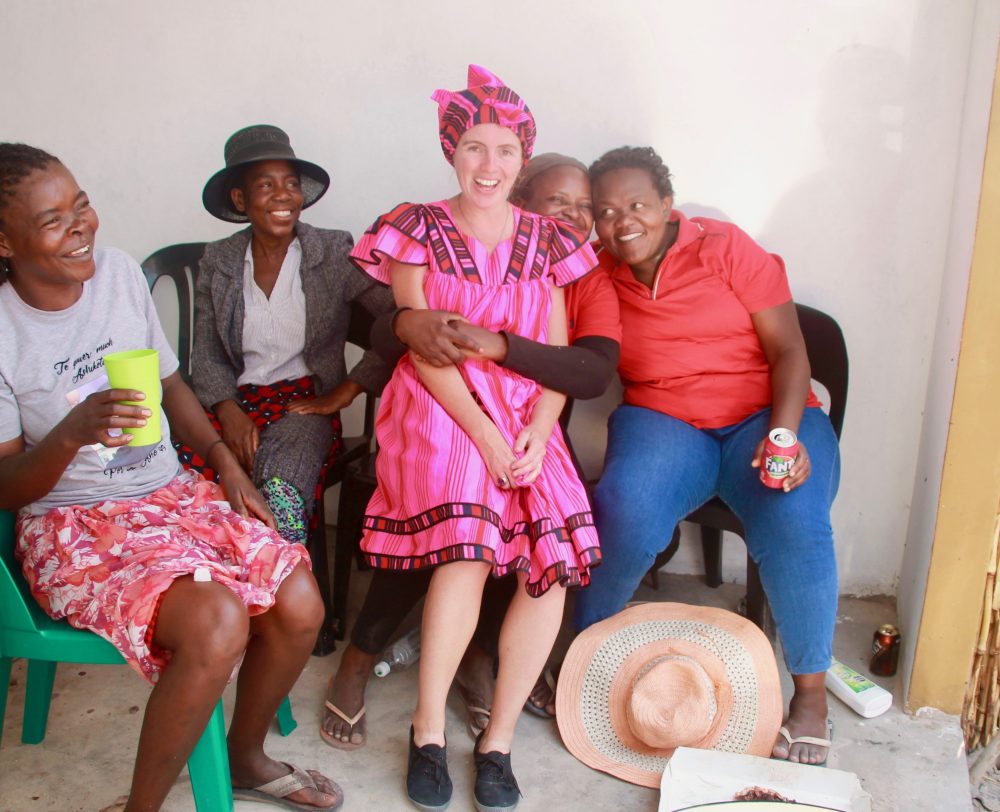 Friends who became family
Solenne in traditional Herero attire. Getting to know Namibian cultures first hand.
Text by Annelien Robberts