Generation Wanderlust Damaraland – Leave only your footprints behind
September 4, 2015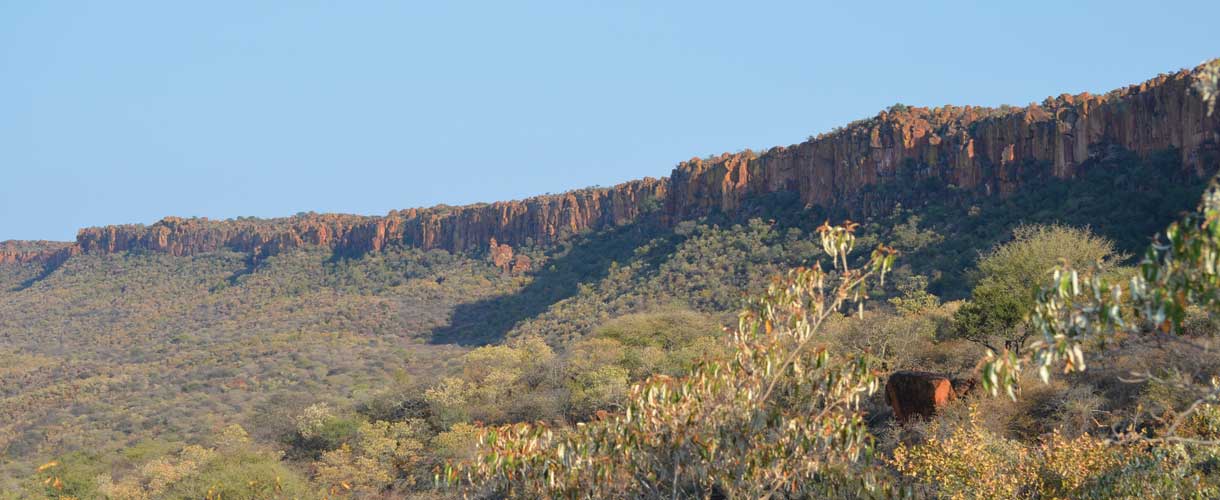 43 shades of green at Waterberg National Park
September 4, 2015
The green sport of the bush
Text & Photographs Ron Swilling
"Do you want to keep score or just have fun?" The father looked at his son, quizzically.  It was the young boy's ninth birthday and he was proudly wearing a badge stating 'I am 9'. He was surrounded by a group of friends who had gathered at Archer's Land for a morning of bow shooting. They looked like diminutive Robin Hoods with their assortment of bows and arrows. The birthday boy didn't need to think about the question. "Just for die lekkerte," he replied, using the Afrikaans expression. Just for the fun.
"The adults have just as much fun as the kids," Kathrin Dürrschmidt assured me before I followed the birthday group into the bush. She had just fitted out each of them with a bow and quiver, four arrows, an arm protector and a protective glove. She had also given a demonstration how to handle the equipment and how to shoot, and explained the rules, which include to walk the trail in one direction only, not to dry fire (i.e. shoot without an arrow), not to shoot into the air, to only shoot at a target when it's clear and NEVER to shoot at anything that moves. During a practice run each boy and his dad took turns shooting at a target. When everyone felt comfortable with their bow and arrows, the group set off to walk the trail, stopping to shoot at the various life-size 3D animal targets – such as warthog, gemsbok, springbok and hartebeest – placed at intervals along the way.
BOW BEGINNINGS
Kathrin filled me in on the details: traditional bow shooting (or archery) can be learnt at any age, no experience is needed and the whole family can take part together. Her interest in bow shooting began when she and her husband, Sebastian, were introduced to the sport by a German bow builder friend. He's made a habit of bringing a few bows and several sets of arrows on his annual visits to Namibia and holding traditional bow shooting tournaments for his friends. Two years ago the couple invited their friends Angela and Etienne Hofmeyr to one of the friendly farm tournaments. They enjoyed it so much that when the couples met up a few weeks later they discussed the idea of offering traditional bow shooting in Windhoek. When Kathrin and Sebastian travelled to Germany later that year, they visited their friend's shooting range and joined a bow-shooting trail through a forest with 3D targets. They were excited about starting something similar in Namibia. On their return, the foursome joined forces and registered 'Archer's Land'.
INTO THE BUSH
The first hurdle was to find a piece of land. It had to be a large area close to town with flat terrain suitable for bow shooting. Eventually, they found the perfect place at Heja Game Lodge, well-known by locals as a lunch spot halfway between Windhoek and Hosea Kutako Airport. They built an entrance hut, repaired the windmill, cleared the trails of vegetation and ordered a variety of targets from South Africa. In April 2014 they opened Archer's Land, which soon became popular for birthday parties, team-building events, functions and family outings in the bush. After completing the trail, children can enjoy their birthday cake at outdoor tables and groups have the option of bringing their own picnic, having a braai or eating at the lodge's restaurant. The entrance fee includes both trails and 'you can stay as long as you want', as Kathrin told me.
FUN!
A passing warthog (a live one!) caught my attention before I followed the trail into the bush to find the birthday group. As I approached I heard various exclamations as the boys aimed and took their turn shooting at the various animal targets. A series of successful shots was followed by "eeeeew!", "aaaaah!", "what a shot!", while comments like "you really got those bushes, boys, we are going to have lots of salad today," were made after some unsuccessful attempts. When all the arrows were spent they were collected from the target and from the ground before the group moved on along the trail to discover which African animal awaited them next. A crocodile in a ditch proved challenging while the chance to shoot springbok from a wooden tower added extra excitement and offered a different perspective.
As the party moved along the trail a group of kudu cows passed in the distance, reminding me that although the collection of well-made animal targets was artificial we were actually in the African bush. Towards the end of the trail the first question of "Dad, what are we having for lunch?" was uttered as tummies began to rumble and the boys looked forward to their boerie-roll lunch. There was still a final target or two, giving even the smallest boy a chance to hit the mark and go home bearing a proud grin.
If they could, the little Robin Hoods would have been wearing a feather in their caps as they returned their gear and happily climbed into the vehicles to take them back home. I overheard one of the dads say: "This has been the gathering of the year."
TWO TRAILS
There are two trails: the Canyon Trail (approx. 1.3 km) and the Great Migration Trail (approx. 2.6 km) with 8 and 14 targets respectively (the longer trail has an optional shortcut), allowing for a large group to be split into two or giving separate groups some privacy.
Three training ranges are available, allowing the children to carry on shooting when they have finished the trail – and the cake.
GREEN SPORT
Archery, 'the skill or practice of using a bow to accurately propel arrows', was once used in combat and dates back to the late Palaeolithic times, about 10 000 to 9 000 BCE. Bows and arrows were used around the world, in classical civilisations and in ancient Egypt. Today, archery is mainly enjoyed as a recreational sport.
Traditional archery is a green sport that has minimal impact on the environment, and the equipment is durable and lasts a long time if treated with care.
THE LOWDOWN
www.archersland.com
contact@archersland.com
081 657 4689
Open on Saturdays, Sundays and public holidays from 9am (open during the week by special request)
Children under 16 must be accompanied by an adult
The turnoff to Archer's Land/Heja Game Lodge
is ±20 km east of Windhoek on the B6.
This article was first published in the Spring 2015 issue of Travel News Namibia.