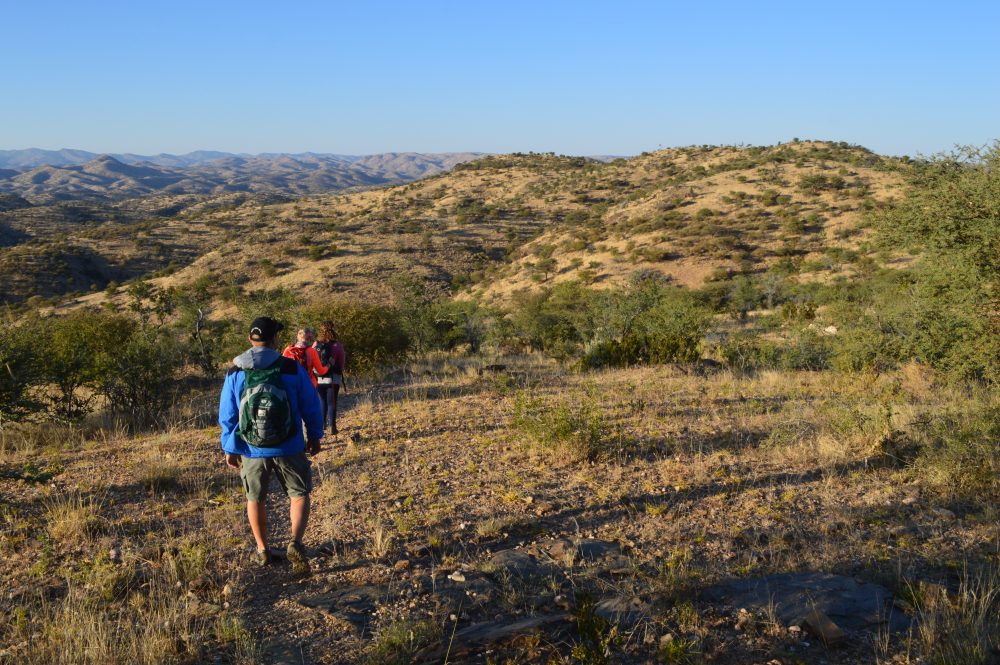 Tackle the Rooibos Trail
March 5, 2020
Iona Skeleton Coast
March 9, 2020
A culmination of perfection is what comes to mind when visiting Droombos, an exclusive lodge that refuses to be associated with the ordinary. And rightly so. Situated only a few minutes drive outside Windhoek, Droombos brings a unique flair to celebrations of any kind. Whether it's celebrating birthdays, weddings or the beauty of Droombos by staying in one of the luxurious rooms, the dream-like atmosphere of the manicured gardens and towering ancient trees will enchant you. Droombos creates an opulent setting that is a perfect eclectic balance between nature, self-sustainability and luxury.
RAMMED EARTH WALLS
Using an ancient technique, most of the structures at Droombos are built with rammed earth walls. The first examples of this building style were found in excavations at Jericho dating back to 8 300 BC. Rammed earth walls also make up a part of the Great Wall of China, and the Romans, too, used this method extensively. Although the history is fascinating, it is not the reason why this well established technique was used at Droombos. It's the environmentally friendly way of building that fits in with the establishment's core values. Furthermore, the instantly recognisable red kalahari sand that is used provides an earthy backdrop which is not only natural but compliments the wonderfully laid out gardens around the lodge.
Rammed earth walls are excellent insulators, creating rooms that are cool in summer and retain heat in winter. These walls are completely non-toxic, non-polluting and they breathe naturally. This means safer, people-friendly buildings that are low in embodied energy and extremely comfortable to live in. The thickness and density efficiently cuts out external noise which ensures an excellent sleep, free of disturbance.
THE GARDEN
Without a doubt the stars of the gardens are the two massive camel thorn trees which are both more than 500 years old. Silent guardians that provide shade for the events arranged on the lush green lawns beneath the long branches of their green canopy. The large garden is a small paradise not only for birds but it is also a popular space to host specialised events. The 100 poplars, 140 apple trees, massive blue gums, wild figs and a number of cherry and wild mulberry trees create a garden unlike any other in Namibia. Additionally, the vegetable and herb gardens don't just add to the diversity of plants in this green space, but supply the restaurant with the freshest produce, straight from the land. The lawns and ample shade make the garden perfect for lazy Sunday picnics, but it is similarly ideal for baby showers, kitchen teas and birthday celebrations.
Suitable for everything from conferences, corporate functions, weddings, celebrations to baby showers, Droombos is the perfect location where your dreams will become a reality.
LUXURY ACCOMMODATION
Each room has its own personality and is named after one of the plants in the garden. The beautiful rammed earth walls are complemented by rosewood ceilings and floors. The spacious suites each have extra-long king-size beds, covered in lush Egyptian cotton, and a gorgeous bath that will rejuvenate travellers after a long flight or eventful Namibian safari.
THE PERFECT VENUE
Suitable for everything from conferences, corporate functions, weddings, celebrations to baby showers, Droombos is the perfect location where your dreams will become a reality. With the range of venue options at Droombos, every event is covered.
THE BLACK BARN
Accommodating more than 500 people, the Black Barn is a large contemporary building that was intentionally designed to be versatile and can effortlessly be adapted to host any type of event from corporate functions to weddings to product launches. Its large side doors open onto a wooden deck that overlooks the well-manicured old camel thorn garden.
DIE ROOIE GALLERY
Don't be fooled into thinking that this is purely a gallery. As with the other function venues at Droombos this delightful rammed earth building is versatile and can be set up to your exact needs. The perfect space for an unforgettable art exhibition, but it also works beautifully as a wedding chapel and for many other purposes. A place to celebrate all things beautiful, the Die Rooie Gallery accommodates up to 250 people.
THE LIBRARY
The smallest of the venues is the Library. It has room for up to 40 people which makes it suitable for a small conference or for an intimate dinner with family and friends.
DROOMBOS RESTAURANT
Large glass panels ensure a scenic 180 degree view onto the Droombos garden. Matching the view is the simple yet delicious menu. Sourcing only the finest ingredients from across Namibia as well as freshly harvested vegetables and herbs straight from the Droombos garden, guests are treated to a culinary feast. The seasonal ingredients not only create an ever-changing menu, but also ensure an environmentally friendly dining experience. The delicious treats, baked freshly every day, are enough reason to come to Droombos for coffee and cake and a quick escape from the city.
PUB AND LOUNGE
This English-style pub entices with its rich rosewood ceiling, floor and bar counter complemented by inviting couches and stylish decor. It is a great place to meet friends for a drink after work or to decompress after a long day's drive.
Droombos is a celebration. It celebrates nature and our place in it. Whether gathering as family and friends to experience the union of two loved ones, a baby shower as part of the excitement of welcoming new life, or a beautifully arranged corporate function in the old camel thorn garden – make sure you have it at Droombos.