Hotel Bundu n See, Swakopmund
August 22, 2012
Levo Tours – a sea adventure in Namibia
August 22, 2012
Renewed energy in the abandoned ghost town
by Ron Swilling
It is a rare person who establishes an art gallery in an abandoned old mining town in the desert. This is precisely what Giel du Toit did, creating his gallery in one of the buildings between the old butchery and bakery in Shop Street, Kolmanskop.
His unique photo studio is a few buildings further on, inside the museum, the former general store where sepia photographs and antique implements now fill the interior. Proof that the small town of Lüderitz holds undiscovered jewels and more than the eye can see, Giel has set up a professional photo studio with state-of-the-art equipment in the abandoned ghost town.
It is especially fitting that Giel has returned to Kolmanskop where his parents lived as a young married couple in the 1930s and where Giel's father worked as a diesel mechanic from 1946–1952. Giel has a large collection of private diaries dating from 1909 until 1962 when the last remaining Kolmanskop residents living in the railway station departed, leaving the town officially abandoned.
Fully equipped professional studio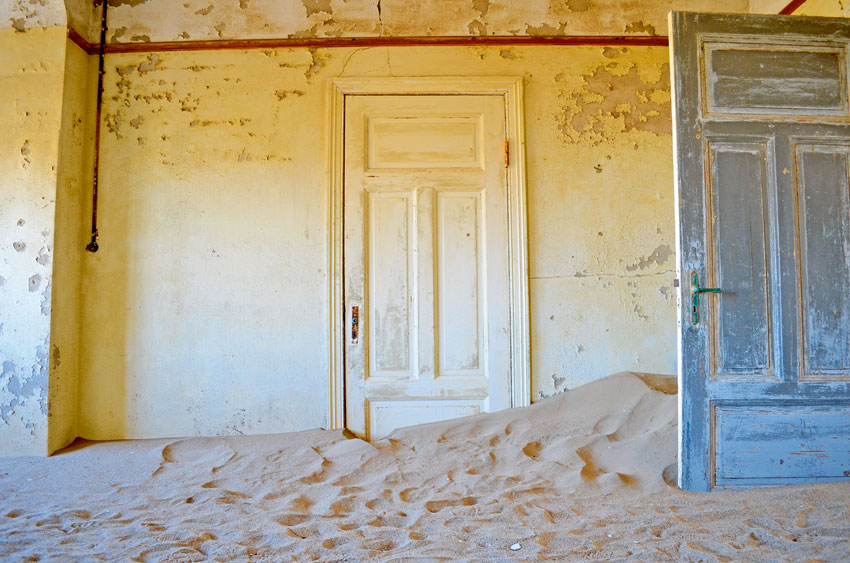 Giel's out-of-the-box thinking is expressed in his studio where he is equipped to cater for the film industry and for dedicated medium- and large-format film enthusiasts, processing and printing all types of film. Giel, a formally trained professional photographer, who acknowledges "I eat, sleep and drink photography," realised that the country was losing business to the South African photo industry, as there were very few facilities available in Namibia. He consulted with a film information company in South Africa and incorporated its recommendations to compete on par with the South African market, facilities and price-wise.
He has film equipment available for hire, specifically for stills photography for, among others, fashion shoots, enabling photographers to rent gear on site and travel lighter, while he simultaneously provides a work platform for them, supported by Apple Mac, Windows and retouching software. Due to the sensitivity of his equipment, it took two years to set up this professional studio. It is specialised to the extent that a reverse osmosis plant is used to produce pure water for wet printing, and includes a slide-film developer, a bulk scanner, a digital printing machine and Nikon 9000 ED and 35-mm Pakon film scanners.
Once the studio was up and running in 2009, Giel was able to concentrate on his Kolmanskop art gallery, which he called House No 7. He had thereby created a much-needed facility to accommodate and give exposure to the abundance of talent in southern Namibia, since there was no dedicated art gallery south of Windhoek to cater for these photographers. Continuing to think out of the box, he negotiated with Ghost Town Tours and Namdeb, and acquired House No 7 as an art gallery. It has an area to exhibit painting and pottery, a Kolmanskop room devoted to atmospheric photographs of the disintegra-ting diamond-mining town and an exhibition area for displaying work by photographers and other artists.
Training and printing
Giel has many projects and plans, one being to create a training programme not only for young people working to become photographers but to give guides a better understanding of the photographic industry. He wants to provide them with a photographic and film background of an area they know better than their clients, but possibly seeing it through different eyes, making them oblivious to many obvious photographic opportunities. Giel says Namibia is about photography and visitors want to take good images back home with them.
He is presently looking at presenting a workshop on colour management for digital and off-set printing in Namibia later this year or in early 2011. The people who will benefit are the companies who run large-format digital printing machines and photographic clubs, improving a field that is often self-taught without a dedicated training platform.
Determined to 'make a large cake, so everyone gets a big slice', he says we need to get our own house in order, which he is implementing by catering for the influx of people arriving in Namibia with photographic interests, proving that we can cater for them locally.
Kolmanskop, an untapped market
The ever-inventive Giel has compiled a photo guide for tourists, which is for sale at Kolmanskop and covers each house in the old town, giving visitors ideas of what to look for. Says Giel, "For the art industry, Kolmanskop is an untapped market." He gives a few unexpected tips, advising that rather than the golden hours always favoured by photographers, the best time to photograph the interiors of Kolmanskop is during the day between 11:00 and 15:00, when the shadows play on the sand and colours are clear and bright. He believes in using techniques rather than touch-ups and says that the secret is not so much in the camera but in the light meter and how to interpret light-meter settings. He concludes,  "So pack a light meter and scout."
Describing his life, Giel's departing wisdom is: "As soon as I am in a comfort zone, I know it's time for something new." This reminds us of the unlimited potential we have and the endless possibilities surrounding us at all times. From the sandy roads of a deserted town in an arid desert, renewed energy is being generated, creative ideas are blooming and undiscovered jewels are waiting, once again, to be discovered.
Photo permits for Kolmanskop are available at the entrance or at Lüderitz Safaris and Tours.
This article appeared in the Dec '10/ Jan '11 edition of Travel News Namibia.