The chameleon – diminutive dragon
August 1, 2013
Women in Tourism – Landine Guim
August 5, 2013
Owned by Johan and Elfie Kotze – the creative originators of Toshari Lodge in Etosha – Swakopmund Sands Hotel is where warmth, true hospitality and personalised service shines through. "For us it is all about keeping the guests happy. This is why we're here," says De Wet Steyn, who co-manages the hotel with his charming sidekick, Kayleen Nash.
And the guests are truly happy. Browsing through the comment book, one compliment after the other meets the eye: 'Great hotel with excellent hospitality and service; Beautiful rooms with beautiful views; Your warmth stands out in the cold of Swakop;' and 'Great hospitality and high-standard customer service,' are the order of the day.
What previously operated as Garni Adler has now been completely revamped (mostly by De Wet himself), to don a more modern and sophisticated cloak. If you have stayed at the former Adler, you won't recognise the place in its new guise. Swakopmund Sands offers 19 luxurious rooms ranging from luxury suites to single and family suites. Each room is equipped with a flat-screen TV, safe, under-floor heating, fridge, and tea-and-coffee-making facilities. A laundry service is available for same-day delivery. Each bathroom is equipped with a hairdryer and shaving facilities, and all international power points can be used.
Enjoy a buffet breakfast in the tranquil dining area on the first floor from where you can view the ocean decked by casual strollers on the beach enjoying the fresh salty air. Romantic chandeliers and a fireplace add to the ambience. Tablecloths carry words that seem to be out of a Jane Austen novel, ensuring that the mind is constantly being stimulated.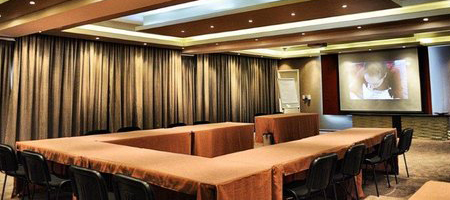 The lounge on the ground floor hosts a fireplace that's lit on cold winter mornings, offering a place for enjoying sundowners and catching up with the world via the Internet. Then there's the outside wooden veranda that shelters loungers from the worst of the midday sun and offers the perfect spot for watching locals going about their daily business. And there's the herb garden tended by De Wet's green fingers, an outside seated area in the quad, conference facilities for up to 20 people (including a meeting room for smaller groups), and a wheelchair-accessible bedroom unit.
As an obvious reflection of its name, the hotel is coloured in dune shades, with masterpieces by local nature photographer Sakkie Rothmann gracing the walls. As guests frequently ask for more than just bed and breakfast, De Wet is also now entrenched behind the stoves, coming up with specialities such as homemade pasta and lasagne. These will be produced for bigger groups on request. www.swakopsandshotel.com