How to eat like a local in Namibia
November 4, 2019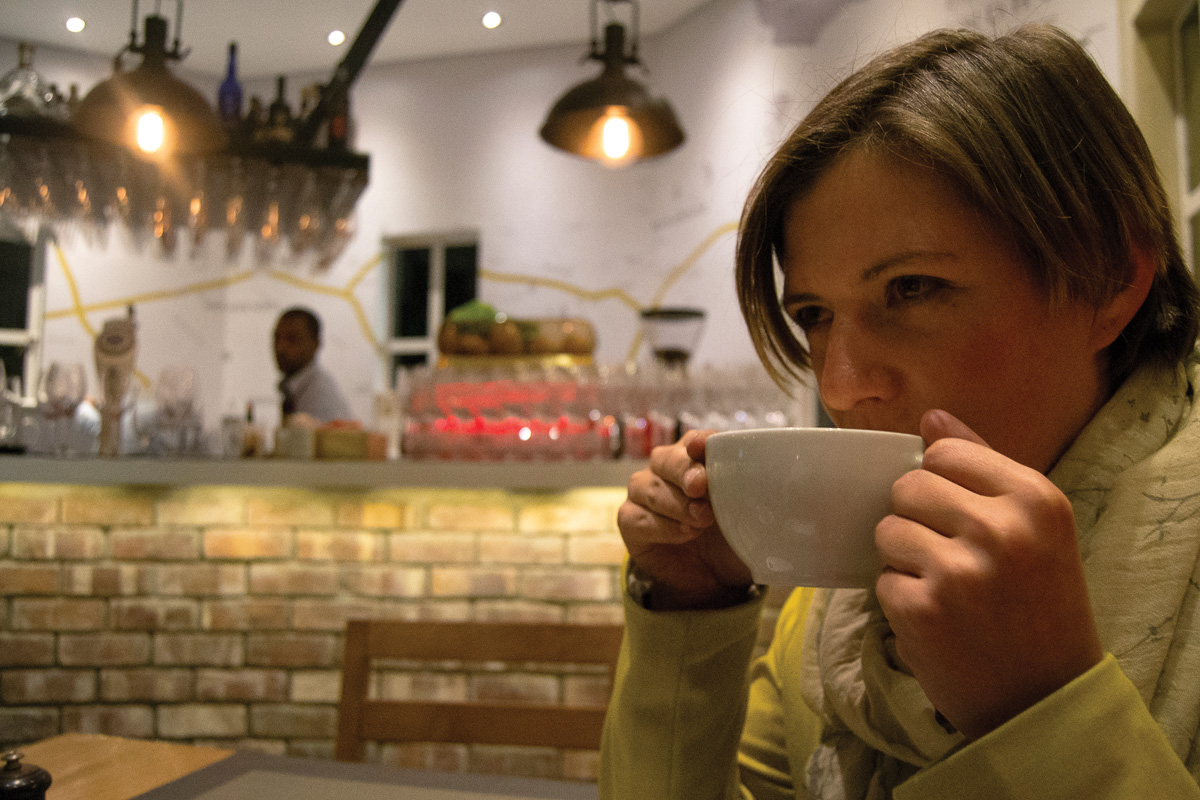 Our favourite coffee spots in Namibia
November 4, 2019
F

rom famous Lüderitz oysters to locally raised meat, farm vegetables and mopane worms, Namibia's restaurants make the most of what is available to create delicious and satisfying dishes. The most popular eateries are found in the capital city and along the coast.
But don't be scared to explore what is on offer further afield. Michelin star restaurants there may not be, but you never know when a tiny town hides the best carrot cake you've ever tasted. Go where the locals go and you won't be disappointed.
Located in Windhoek's Eros neighbourhood, Joe's Beerhouse is an eclectic and adventurous establishment featuring German cuisine inspired by Namibia's wilderness. Opened in 1991 by Chef Joachim Gross, the menu's focus is on meat dishes as well as a few German and local favourites.
With a number of bars and seating areas decorated with rustic clutter and, often beguiling, memorabilia, diners can dig into a dish of perfectly crisp eisbein (pork knuckle) with a side of mustard and sauerkraut, try a zebra or ostrich steak, or simply sit back and relax with a local draught beer.
Found inside a converted tug boat in Swakopmund, the popular seaside town, The Tug is a cosy restaurant specialising in mouth-watering seafood. Perched right next to the beach, the restaurant offers a unique interior created around the ship's shell, an outdoor seating area with views over the crashing waves and excellent service. A simple dish like baked fresh fish with lemon-butter sauce makes for a memorable meal. Reservations are a must
Situated on the boardwalk, overlooking the moody Atlantic Ocean and the Mole Beach, is the welcoming Brewer & Butcher restaurant at the Strand Hotel Swakopmund. During the summer the outside area is full with visitors basking in the sunshine, while misty coastal days call for fireside meals. With a wide selection of beers available, some of which are brewed in-house by the Swakopmund Brewing Company, diners will not only be treated to skilfully prepared dishes but also an authentic dining experience.
.
The Wine Bar is a local favourite, the restaurant abuzz on weekends as well as weekdays. The relaxing environment together with a wine list boasting quality yet reasonably priced names are a winning recipe created by the owner, Namibian constitutional judge David Smuts. It is easy to see why The Wine Bar is so popular: it is a great spot for after work drinks or catch-up sessions with friends. The sunset views over western Windhoek and the historic photographs of pre-independence Namibia by the late photographer, Tony Figuerra, are two eye-catching features of the establishment. Beers, ciders and cocktails, and an array of savoury dishes and local favourites are also available.
Set in the shady courtyard of the whimsical Bougain Villas Centre in Windhoek, the Stellenbosch Wine Bar and Bistro on Sam Nujoma Avenue is one of the capital's most popular restaurants. Patrons can not only sip on one of the many award-winning wines on offer but also indulge in prime cuts of Namibian meat. At the helm of the dining establishment is the Windhoek Collection, which also created the Stellenbosch Tasting Room and the Stellenbosch Market in the same property.
Located in Swakopmund, the Brauhaus is a Bavarian-style festive eatery with a German-inspired menu which makes for a charming experience not to be missed. Set within a quaint and quiet shopping arcade in the heart of the town, the restaurant is surrounded by other charming stores, including a bookstore, leather products shop and antiques dealer, yet it is often the site of lively gatherings, with more than one "Stiefel" – a boot-shaped glass vessel filled with two litres of beer – shared among friends. A Namibian restaurant must-try.
Pepata Restaurant specialises in providing an authentically Namibian dining experience. The friendly establishment offers diners a menu inspired by the delicacies and dishes of the Owambo people. Omutwe (sheep's head), beef or goat tripe, "marathon" chicken (a colloquial name for free-range village chickens, perhaps because they try to outrun their turn in the pot), sides of ombidi (a type of spinach grown in the north of Namibia), oshifima (maize porridge) and traditionally brewed Oshikundu are just a couple of highlights awaiting guests. Not to forget the mopane worms!
OTHER HONOURABLE MENTIONS
SWAKOPMUND
• Ocean Cellar
• Altstadt
• Tiger Reef
• Hansa Hotel
WINDHOEK
• Leo's at the Castle (Hotel Heinitzburg)
• Butcher's Block
• Cape Town Fish Market
• Sardinia Blue Olive
• The Kitchen
• Isabel's Table