Pieter-Dirk Uys and friends visit Namibia
July 10, 2013
Namibia ready to wow at ATWS
July 11, 2013
Le Mirage Desert Lodge & Spa is located only 21 km from Sesriem at the entrance gate to the Namib Naukluft Park and Sossusvlei. The lodge is probably the most unique accommodation in the Namib Desert. It is the ideal place to stay when you want to visit the highest dunes in the world. 
The lodge is a harmonious blend of Moroccan style and nature with each room offering a view of the vast plains of the Namib Desert. The contrast of dark natural stone and crisp white linen with extensive mosquito nets make for pure comfort and relaxation. The spacious rooms offer unique in-suite open plan bathrooms.
Let the eventful days come to an end around the open fire pit of the sundowner platform followed by our 5-course cuisine at candle light in the restaurant, or, for the romantic special event, in our very unique wine cellar.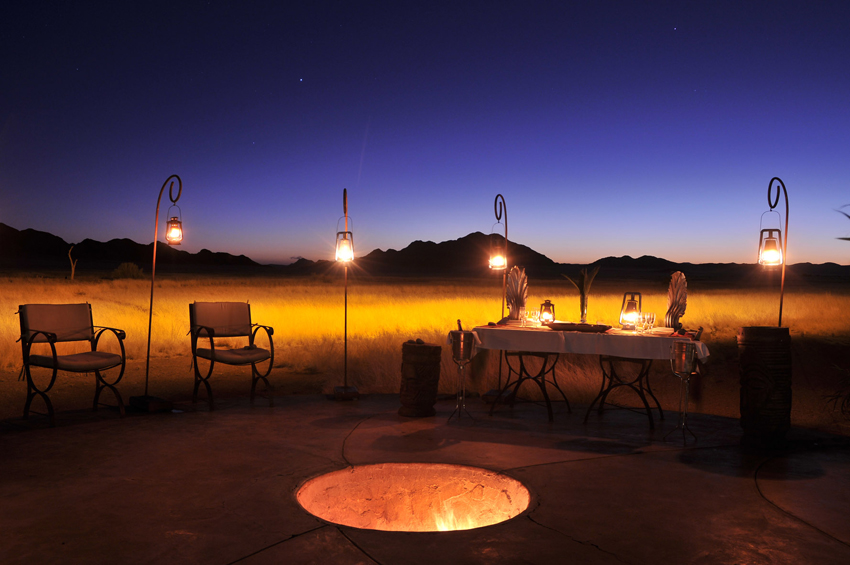 The wellness centre specializes in massages, pedicures, manicures, aroma massages and de-stress treatments.
In the large courtyard guests can relax in the Jacuzzi or retreat at the swimming pool sheltered from the desert in a lush garden oasis.
Activities include quad bike tours, nature drives on our private domain and nature drives to Sossusvlei, scenic flights and hot air ballooning.
Savour the mélange of colours and shapes in an ancient desert with its towering red sand dunes and vast desert plains with Springbok casually passing by.