My Hungry Heart recipe #75 – Christmas trifle
December 5, 2016
Sumo wrestler of the bird world
December 7, 2016
Text and photos Peter Cunningham
TO WELL-HEELED SUV WARRIORS TRAVELLING ALONG A SANDY WINDSWEPT COASTAL ROAD BETWEEN SWAKOPMUND AND HENTIES BAY, WLOTZKASBAKEN MIGHT SEEM ABAONDONED AND A TRIFLE AUSTERE OR PRIMEVAL, BUT SLOWING DOWN TO SAVOUR THIS STILTED RESERVOIR-ADORNED SETTLEMENT WILL REVEAL ITS APPEAL
This is especially evident when meandering through the stone-lined pathways of the hamlet and spotting the messages fluttering in the wind. Flags seem to adorn every house, even transforming some of the more unsightly abodes into exhibits worth looking at. There is even a flag house! Gone are the days of serendipitously turning off to Wlotzkasbaken for angling or to while away the time on a sanguine Sunday cruise along the coast. No, today the flags lure one to undertake an amusing albeit sometimes intricate vexillological quest. The Wlotzkas flags – dare I coin them thus – range from familiar country colours to the arduous and witty.
Wikipedia will tell you that a flag is a piece of fabric, often flown from a pole or mast, generally used symbolically for signalling or identification, especially in challenging environments, and used for messaging, advertising and decorative purposes. The range of Wlotzkas flags is intriguing, to wit the mug-spilling-beer flag I suspect may refer to a family name or recreational antics and certainly indicates much merriment and mirth, and the mosquito-bearing flag, which has me stumped. Double flags abound, with the seagull and shark combo, unless signifying something other, at least apt and recognisable as a coastal appendage, and the Union Jack and German flag combination, probably indicating a long sought-after marital union.
Ancient flags were known as 'vexilloids', meaning guide in Latin, and were originally made of wood or metal posts with a carved insignia at the apex, the first from Iran and dating back to at least 3000 BC. Material flags were first observed around 2 000 years ago and were presumably used by a person or groups of people to signify a meaningful message.
Flags seem to adorn every house, even transforming some of the more unsightly abodes into exhibits worth looking at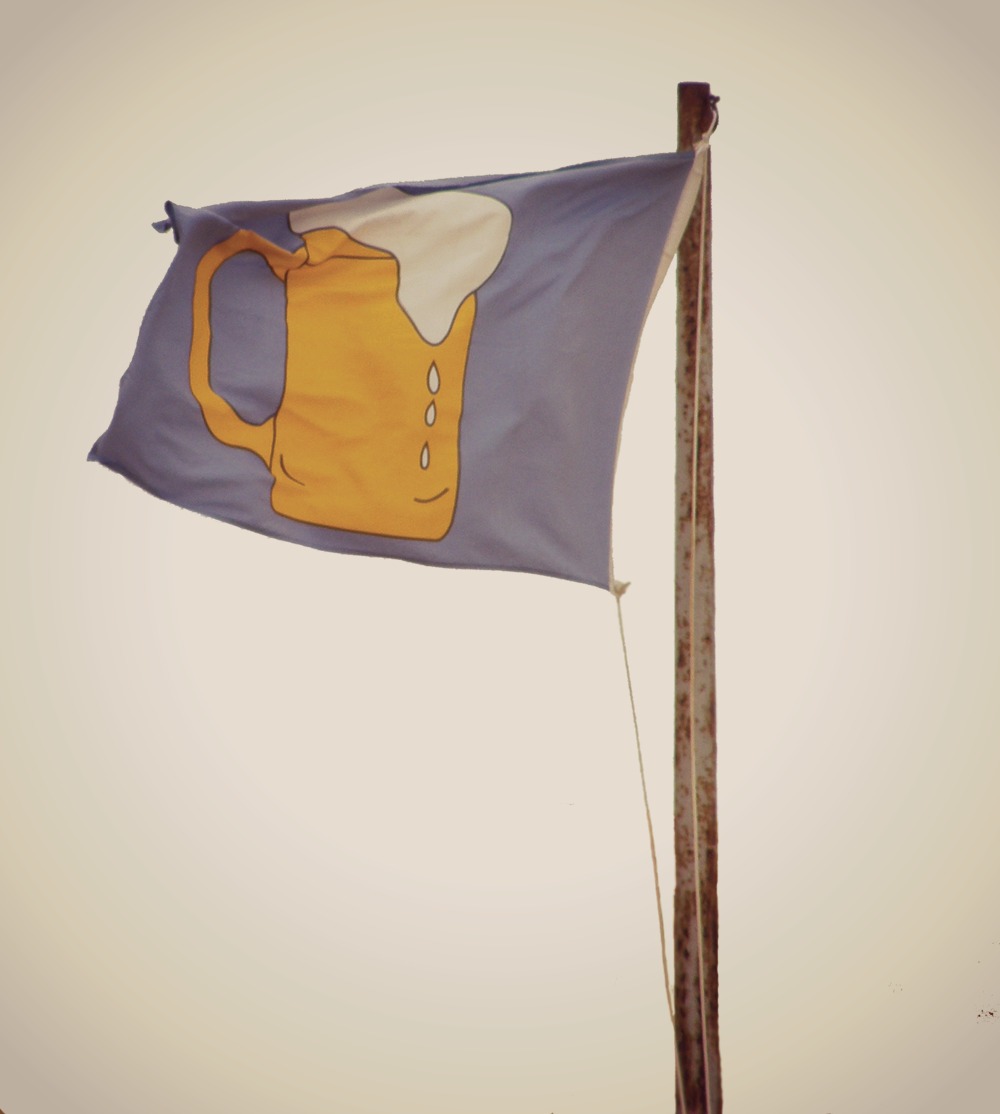 For example, ancient knights in armour used flags to indicate their allegiance, as distinguishing between metal-clad humans was found to be difficult in the heat of battle. The oldest state flag is the Danish flag, the Dannebrog, dating back to the 13th century, while the most commonly used flag is the Union Jack of the United Kingdom, also used by a variety of former colonies such as Australia and New Zealand. Some flags are timeless, such as the white flag, internationally recognised and used to indicate capitulation, and red flags, indicating danger.
Pirate flags were initially blood red, spelling danger, or plain black, thereafter followed by a combination of white skull-decorated motifs on a black background. It thus comes as no great surprise that another Wlotzkas flag is that of the Jolly Rodger. The Jolly Rodger was used by pirates to indicate that no quarter would be given in battle should their hapless victims not surrender quickly. As pirates received little mercy when captured, they were consequently often ruthless with would-be victims not succumbing meekly to their flag. The term Jolly Rodger is thought to have derived from the French jolie rouge, meaning pretty red (from there the danger) or combinations of Old Rodger, the term used for the Devil in Victorian times or roger as used for beggars and vagrants, with the jolly referring to the grinning skull.
A flag with an international maritime signal depicted in Wlotzkas probably sums up the fortitude and solitary existence of the residents, as the letter-flag signalling Victor (red cross on white background) indicates "I require assistance" (although not urgently), closely followed by the flag November (blue-and-white chequered) signalling 'negative'! Now to find a cunning linguist with a vexillological flare to design something for my humble abode in Windhoek.
This article was first published in the Flamingo August 2010 issue.