Spessartine
April 28, 2017
Life on a table recipe #109 – Marianne's condensed milk rusks
May 3, 2017
Text and photographs Elzanne Erasmus
Namibia, the land of many landscapes. Of many faces and different places. Each panorama different from the next. From desert to thick bush wilderness areas. From mountainous rocky ranges to expansive savannah grasslands. This land has an endless supply of contrasts. Travel News Namibia's team member Elzanne Erasmus recently discovered this first hand. She embarked on an expedition to visit each accommodation establishment in the Naturally Namibia family, all in one week! Naturally Namibia is a proudly Namibian tourism marketing company that represents a number of owner-run establishments and tourism businesses. The lodges and experiences in this Naturally Namibia circuit are spread across the country.  TNN discovered that following this route is like travelling across universes, across worlds! Each part of Namibia is more beautiful than the next. This… is the Naturally Namibia Experience.
The Spitzkoppe is a delightful sight just west of Usakos.
Koolis admires the sunrise view from atop a boulder at Erongo Wilderness Lodge.
The Ugab River near Omaruru in full flood for the first time in many years.
FROM COAST TO CRAG
1 My adventure started in the sleepy and enigmatic coastal town of Swakopmund. Here, near the town centre, a quaint yellow historical house sits on a street corner. Amongst all the beauty of the town's German colonial architecture, Villa Margherita is my favourite. The white trimmings on the building's visage lend itself to the bygone era it reminisces on. Inside, you'll find the warmth and luxury of home, smiling faces, fireplaces and the relaxed ambiance of this charming boutique hotel. A short walk away lie the town centre, the Mole and a myriad of restaurants, adventure outposts and shopping locations. From the coast I departed on what was to become an almost surreal week of jumping from one universe to another.
About 240 km eastwards, nestled amongst giant boulders not far from the lovely town of Omaruru, lies Erongo Wilderness Lodge. Between rocky outcrops a flurry of life exists in this natural haven. Lizards scurry across hot stone faces, and the near-endemic Rosy-faced Lovebird twitters in trees overhead. They serenade their partners. The fresh blooms and bursts of green in the surrounding bush a colourful reminder of recent rains. As the sun rises, the red rocks of the Erongo landscape catch fire, the first light glistening on the surface of the Omaruru River nearby as it carves its path through the landscape. In full flood for the first time in many years.
From the privacy of my room huddled against a rocky mountain bluff: a stunning vista. During afternoon tea at the lodge's main area I admire an abundance of birds make use of a pond, splashing about and frolicking in the much-missed water. I love the expression so often used here in Namibia: A thankful land. After a long period of drought, recent rains have made this semi-arid country sprout proudly with life. So thankful is the soil for even a small pittance of water that it erupts into green delight soon after the first rains have fallen. In the late afternoon my fellow guests and I, accompanied by our knowledgeable guide Koolis, depart on an afternoon nature drive. Steenbok and the delightful Damara dik-dik come out to make our acquaintance. The tiny dik-dik lamb is barely tall enough to see over the growth in which his mother has hidden him. A short trek up a rocky crag takes us to Paula's Cave where we gaze in wonder at the 2 000 year-old rock paintings left behind by the San. Koolis and I set off on an early morning hike along one of the many trails in the wilderness surrounding the lodge. As the sun rises over the horizon we ascend a steep rock face, startling a baboon family. Breath-taking. That is the only linguistic equivalent to the grandeur of the view from atop this precipice. The Erongo landscape stretching as far as the eye can see. A stunning, otherworldly view.
NEW HUES AND POSITIVE ENERGY CUES
2 As I head northwest, the landscape's colour palette changes from hues of bright green to a soft red. Travelling along gravel backroads the view astounds, more often than not. The mighty Brandberg, Namibia's tallest mountain, comes slowly into view. I pass roadside craft markets and small stalls where locals sell their wares and wonder how they make a living out here in the middle of what seems an awful lot like nowhere. As I pass over the Ugab River my eyes wander hopefully. This is a popular haunt of desert-adapted elephant, but they must be further up or downstream right now. Just north of the Palmwag veterinary gate a vehicle and guides await my arrival. Soon we are bobbing along the trail across the rugged terrain that will take us to my destination. The rust-coloured rocky landscape is dotted with green – Euphorbia Damarana. Food to some, poison to others. The dark, cloudy skies make it all seem somewhat ethereal. Until the sun's mighty rays slip through the cracks and ignite the red magma rocks. Lying almost unseen amidst this beautiful landscape is the stunning Etendeka Mountain Camp.
I almost immediately set off on another adventure. Following Boas along narrow game tracks we explore the area around the lodge on foot. Lion tracks, scorpions, Hartmann's mountain zebra, springbok and giraffe ensure an interesting excursion.
I'm also introduced to a Kaokoveld Namib Day Gecko, a species I have never had the pleasure of meeting before. Boas assures me that he is a special little endemic creature and I treasure the moment. A hike up a hilltop reveals a magnificent vista. Our 360-degree view of the rough land is awe-inspiring. Here we sit and watch the sun descend beyond the skyline, sipping an ice-cold Windhoek Lager, camera shutter snapping away. One last stop takes us up a mountainside at sunrise. Atop this escarpment the earth begins to flicker with exciting new colours and textures. The red and brown template of the surroundings is interrupted by bright white and green crystals glistening in the early morning sun. Our "crystal walk" explores these different geological marvels, and according to Boas who has hosted a number of crystal fundies, we are absorbing fields of wonderful positive energy from this prolific mineral earth.
FROM RED ROCK VALLEY TO GREAT WHITE PLACE
3 My route turned eastward once more as I made my way from Palmwag up the Grootberg Pass. Somewhere between the summit of the pass and Kamanjab stands my colleague Rièth's favourite tree. And no, not just her favourite type of tree, literally her favourite tree. A Sterculia Quinqueloba, or Large-leaved Sterculia. Having passed by it a few times before and never catching the right "golden hour" light we have previously been disappointed by our pictures, never able to show others quite how awesome-looking this specific tree is.
Visit the Enethe Craft Centre on the southern bank of the Ugab River along the D2319.
The Brandberg, Namibia's tallest mountain
Boas admires the Damaraland vista from a hilltop overlooking Etendeka Mountain Camp.
Euphorbia virosa
Sterculia Quinqueloba
Lion cubs at Ongava Private Game Reserve
4 This time around I abruptly slam on the breaks, causing dust to spew all around the car. The light is perfect, the tree even more so. Suffice it to say that this is now my favourite tree, too. Rièth… you've finally convinced me.
Kamanjab, a small town en route, is a quaint stopover. Blink and you'll miss it! Here you'll find filling stations (there are now two!), a well-stocked shop for groceries and the like (I even once found Starbuck's Frappuccino in the fridge) and an adorable new coffee/snack shop by the puzzling name of "Atatatatatata"… Another 156 km east is Outjo. I highly recommend the Outjo Bakery for a quick lunch.
My next destination lay an hour north of Outjo. Ongava Lodge sits atop a hill overlooking a waterhole and the mopane wilderness at its feet. On an afternoon game drive my shutter was going off like a strobe light. All the while I was thinking how no one would believe I took these photographs on a private game reserve just south of Etosha. It was too green. These lions were too close. Their wet fur made them appear as if they had just strolled out of a tropical jungle. It's amazing what some much needed water can do to this thirsty land. Summer rains have left Etosha National Park and the areas on its peripheries bursting with life. At Ongava the lions and countless other fauna are a wonder to behold… even if they are slightly harder to find during the wet season. Abnor and I see lionesses chase a herd of giraffe across an open plain. After taking a turn through thick bush we come upon another small pride, young cubs playfully rolling over one another, mothers looking on, completely relaxed. We drink our sundowners a few metres away from two gentle horned giants, casually grazing on the fresh green foliage.
SUMMER STORMS, A WET SA

LTPAN

AND ABSOLUTE SERENITY
5 Etosha is wet. Green grass, nebrownii bushes bursting with yellow blooms and more water in the pan than I have seen in a very long time. The jewel in the crown of Namibia, as it is fondly called: Etosha National Park is Namibia's most popular tourist destination. An absolute must-visit on every traveller's list, it is teeming with wildlife and the massive salt pan can be seen from space! I spent the entire day gallivanting along all the roads between Okaukuejo and Namutoni (the park's two main camps), visiting all my favourite waterholes (such as Okondeka, Nebrowni, Salvadora and Chudop). Rain means that not too many animals depend on the waterholes though, so my journey through the park was less eventful, but I still marvelled at the beauty of this place. And seeing so much water in the pan made me giddy with excitement.
Serenity. That's the word that comes to mind when I find myself lucky enough to be sitting at Mushara Bush Camp that evening, glass of wine in hand. Light summer rain drizzles around me. Muted light and the most beautiful interior design add to the leisure. After a long day driving through a wet and green Etosha, there is nothing quite as wonderful as unwinding. A quiet peaceful tranquillity seeps into my bones and I wish I could stay right here forever. If I could stay a little longer my content lethargy would not persist for too long though. The jewel in Namibia's crown is on Mushara's doorstep, teeming with wildlife. I'd be exploring the park further at first light if my next destination didn't lie south…
FROM THE JEWEL IN THE CROWN TO A SANCTUARY FOR NATURE
6 About 72 km south of Otjiwarongo a sanctuary stretches across more than 22 000 hectares. Home to wildlife abundant and a large concentration of carnivores, this is a place born of passion for conservation. Okonjima, meaning 'place of baboons' in Ovaherero, is a private nature reserve that plays host to stunning accommodation facilities, including Okonjima Bush Camp, Plains Camp, a private Bush Suite and a Grand African Villa, as well as the AfriCat Foundation, an education and research-based welfare organization committed to the conservation of Namibia's large carnivores.
I was lucky enough to indulge in not one but two separate leopard tracking expeditions on my visit. With my guide Rohan at the helm, and a handy helper in the form of a radio collar-tracking device, we tracked, observed and marvelled at large spotted felines as they went about their day. Nkosi rises from his nap in the tall grass and I have a split second to capture his gruff expression. Then he's off again, ambling down the dry riverbed, not paying us much mind, but neither sticking around to humour us. On the drive back to the beautiful lodge, a setting sun as the backdrop, a brown hyena crosses our path and then proceeds to lead the way, jogging down the track in front of us before eventually slipping into the encroaching shadows. What a sundowner indeed! An enchanting visit to the night hide after dinner marks my first close-up encounter with a porcupine…
Cattle Egret in Etosha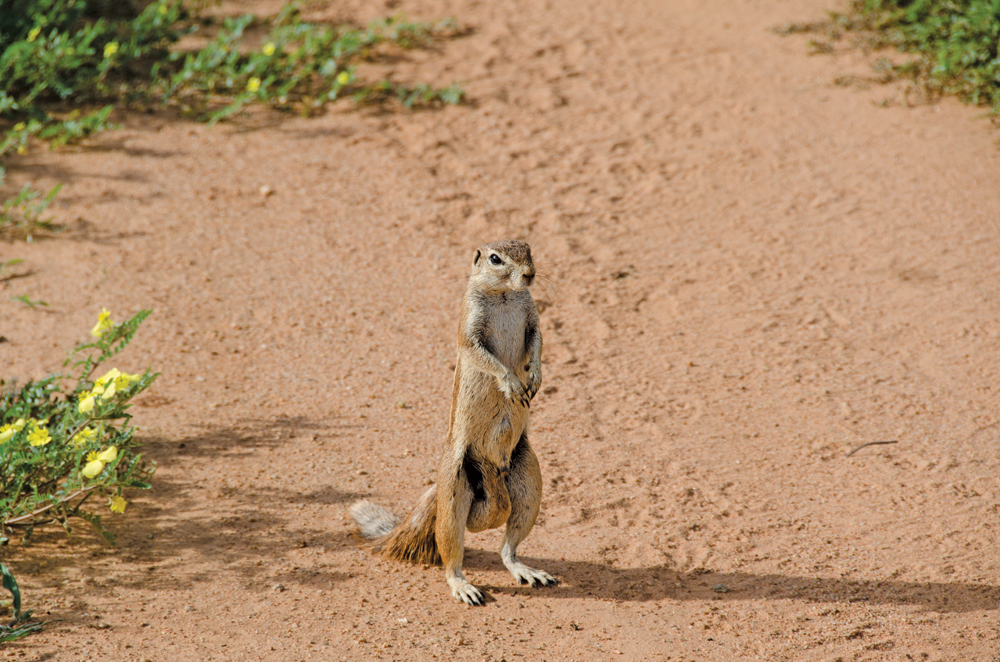 Rohan and I walk through thick acacia bush the next morning, ducking and weaving through protruding branches. Sidestepping fallen trees and enormous spider webs. The encouraging 'beep beep beep' of the tracker is the soundtrack of our anticipation. And then we find them, three cheetahs resting in the shade of the thick brush, relaxed as can be. They peer at us and we eye them back, an unspoken tête-à-tête. My photographer heart has found its happy place. This 6th world on my trip is a refuge for wonderful wild creatures, and the passion and enthusiasm with which this haven is managed and operated makes for an even more enthralling experience.
FROM HAVEN TO HUB
7 Finally, after a week of exploration, I make my way south to the capital of this country with many faces. In Windhoek, feet up and head back, I lounge on the veranda at the Olive Exclusive. I sip my glass of champagne, celebrating my feat of navigating what feels like universes, all within a week! I think back to the smell of the ocean breeze and the hue of giant boulders catching fire in the sunlight. I remember the view across rugged Damaraland and looking a lioness in the eyes. I recall relaxing and listening to the sound of summer rains from a serene perch and I once again marvel at seeing large carnivores navigating their homeland. Namibia, in all its natural glory is unlike any other place on earth. I can't wait to explore it all over again!
NAMIB SKY BALLOON SAFARIS
is Namibia's premier ballooning safari company! Floating over the gigantic red dunes of Namib Naukluft Park is one of the most breath-taking experiences. Explore the oldest desert on earth and marvels such as Sossusvlei and desert wildlife from this extraordinary vantage point. Be sure to add this epic Naturally Namibia experience to your tour plans.
SKELETON COAST SAFARIS
Touring with Skeleton Coast Safaris is a monumental way to discover the mysteries of Namibia's famous Skeleton Coast National Park. Join a fully inclusive fly-in safari of 4 or 5 days. Discover shipwrecks, mysterious geological formations and vast uninhabited landscapes in this desolate and hard-to-reach area of Namibia.
DID YOU KNOW?
Ai Aiba – The Rock Painting Lodge is the newest addition to the Naturally Namibia family. This is another great stopover in the Erongo region, ideally infused between your visit to Erongo Wilderness Lodge and Etendeka Mountain Camp on the Naturally Namibia circuit.
This article was first published in the Travel News Namibia Autumn 2017 issue.